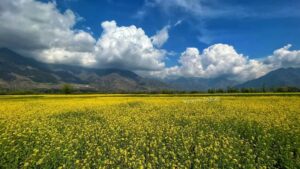 The spring season of 2023 was greeted in the Kashmir valley by a mesmerising yellow carpet (bloom of mustard fields). The ongoing Russia Ukraine war crisis, and the  Western sanctions that ensued, has not only led major countries across the world to raise interest rates to contain inflation but also created enormous food security challenge (rising input costs) around the world because of disruptions to global food supply chain.
Inflation becomes even more severe when in a country more than 62% of edible oil consumption is dependent on imports. J&K  government, under the initiative of doubling farmers income and Atmanirbhar Bharat, took major initiatives to revive the oilseed cultivation sector in J&K.
With the active involvement and toil of the Department of Agriculture and Farmers Welfare, Kashmir, through the National Mission on Oilseeds and Farmers, has increased the area under oilseeds from just 30000 hectares to whooping area of 140000 hectares and are in steady mission to further increase the area under the oil seeds. Holistic Agriculture Development Program (HADP) launched by J&K in 2023 holds notable prominence for not only achieving self-sufficiency in oilseeds but also harnessing the export potential of edible oilseeds.
Introduction
Rapeseed/Toria and mustard are the third most important edible oilseed crops of the world after soybean and oil palm. The three types of Brassica species are grown  in UT of Jammu & Kashmir region namely Brassica compestris var.  rapa commonly known as Toria, Brassica napus viz.  Gobhi Sarson, Brassica juncea viz. Indian mustard and  Brassica juncea var. Brown Sarson. The toria crop is mostly grown as a catch crop in Maize-Toria-Wheat  crop rotation  in the rain-fed areas, whereas  Indian  mustard is grown as a sole crop in mid October both in irrigated as well as rain-fed areas of the Jammu region mostly. The Brassica napus is confined to the  irrigated areas and mid-hill regions of Jammu. The  Brown sarson is confined to the temperate hilly region  of J&K UT in both Jammu and Kashmir provinces where it is sown in the month of  September-October where remains in the dormant  stage for a few months under the snow and later on  harvested in the month of May-June . The oil content varies from 37 to 49%. The crop suits perfectly in the oilseed–paddy rotation prevalent in the valley and has a great buffering capacity to tolerate frost conditions.
 The seed and oil are used as condiments in the preparation of pickles, curries, vegetables, hair oils, medicines and manufacture of greases. The oil cake is used as feed and manure. The leaves of young plants are used as green vegetables and green stems and leaves are a good source of green fodder for cattle. In the tanning industry, mustard oil is used for softening leather, mustard  is also a  boost to the Apiary , fruit sector & tourism sector (the song of bollywood film DDLJ, 1992 is testimony to this)
Place in Country's Economy:
India is one of the largest producers of oilseeds in the world. The oil sector occupies an important position in the agricultural economy. It accounts for the estimated production of 36.56 mt of nine cultivated oilseeds during the year 2020-21(Ministry of Agriculture). India is the world's second-largest consumer and number-one importer of vegetable oil. Palm oil (Crude + Refined) constitutes roughly around 62% of the total edible oils imported and is imported mainly from Indonesia and Malaysia (Endangering Orangutans, At present, 80 percent of orangutan habitat has been altered or lost). while Soyabean oil (22%) is imported from Argentina and Brazil and Sunflower oil (15%) is imported mainly from Ukraine and Russia. The UT of J&K currently produces only 3.36 lakh quintals of edible oils against the requirement of 14.20 lakh quintal, thus more than 70% of edible oil is met by imports.
At present, India meets nearly 55% to 60% of its edible oil demand through imports. Therefore, India needs to be independent in oil production to meet the domestic consumption demand. In this context govt of UT, has taken several initiatives to increase the share of area under oilseed crops and to augment the oilseed production and productivity.
Reasons for not being Self-Sufficient in Oilseed Production?
Land Fragmentation:  which makes it difficult for farmers to adopt modern farming techniques, machinery and technology.
Genetic factors: oil seeds are C3 plants and have less photosynthetic efficiency     due to photorespiration, the final product of oil seeds is oil, which has an inverse relationship with the yield, Narrow genetic base in oil seeds for varietal improvement, thus oilseeds are genetically handicapped.
Low Productivity: Oil seeds are energy-rich crops, but are grown in energy-starved conditions. More than  85%  of  the  area  under  oilseeds  is  rainfed,  often  cultivated  with  low  input  and  poor  management practices.  Most of the oil seed crops are raised in marginal and sub-marginal lands which are having poor fertility status.  Oil  seeds  are subjected  to  the  vagaries  of  the  monsoon  resulting in  lower  yields  as compared to irrigated crops.  Lack of suitable HYV or hybrids which are having higher levels of oil content. inadequate use of fertilizers, and insufficient research and development.
Lack of Storage and Distribution Infrastructure which results in significant postharvest losses.
Related initiatives taken:
National Mission on Edible Oil-Oil Palm (NMEO-OP)
Oil Palm Area Expansion under Rastriya Krishi Vikas Yojana.
Under National Mission on Edible Oil a massive campaign for doubling the farmers income and doubling the area under oilseeds (Mustard) was launched by Director of Agriculture, Kashmir during Rabi 2021 -22.  A series of events including field visits, participation in sowing operations, awareness programs and interactive sessions with farmers, bike and car rallies were also organised by the department of Agriculture across the valley. Around 1800 quintals of seed along with PSB (free of cost) was distributed among the farmers of the valley. Over 1 lakh hectares of land was brought under oilseed cultivation from a just 30000 hectares of land. Continuing with same efforts, the total area brought under oil seed cultivation during 22-23 stands at 140000 hectares and trying to bring as much land under mustard cultivation as possible. Every nook and corner of the valley from hills to plains has been covered under the National Mission on Edible Oil. The success of mustard farming can be gauged from the fact that the land under cultivation of oilseed crop is more than the area under rice cultivation- 1.25 lakh hectares of land is under rice cultivation and mustard has already exceeded that.
Holistic Agriculture Development Program (HADP)
It is a comprehensive policy action that has been framed after taking account of looming risks such as land constraints, water shortages, unavailability of improved seed climate change, lack of storage facilities and the rest.
As Jammu and Kashmir is known for its diverse agro-climatic conditions that provide a suitable environment for the cultivation of various crops, including oilseeds. Jammu and Kashmir's oil industry would be witnessing a significant transformation with the implementation of multifarious initiatives under Holistic Agriculture Development Program (HADP) by the Agriculture Production Department. The Apex Committee, under the chairmanship of Dr. Mangla Rai, Former DG ICAR, has charted out the roadmap for implementation of 29 projects under HADP, among the approved projects, promotion of oilseed cultivation has been given due consideration.
The interventions, includes providing subsidized improved  seeds and fertilizers, increasing the seed replacement rate and adopting technologies like INM/IPM and micro irrigation- aimed at boosting both oil seed production and productivity. inputs like gypsum, pyrite, lime, supply of azobacter, rhizobium, etc., PP chemicals, bio pesticides, insecticides and bio agents will be provided at 50% subsidy. Power-operated spray pumps , power weeder/seed drill/multi-crop planter/multi-crop thresher, etc., will be distributed at 50% subsidy , borewells and  sprinkler systems- a significant boost to automation. under post-harvest management, incentives will be provided on the establishment oil mills with filter press, oilseed extractors, and branding and marketing units.
The government intends to bring 210 Thousand Hectares under oilseed cultivation from the current 140 Thousand Hectares over the next three years. About 202.50 Thousand Hectares shall be covered under rapeseed and mustard cultivation and 7.50 Thousand Hectares shall be covered under sesame seed cultivation- aims to promote crop diversification.  Besides, 70,000 Hectares of additional areas shall be covered in potential oilseed districts by utilizing fallow lands, culturable waste lands for promoting intercropping systems and increased cropping intensity.
The total requirement edible oils in the UT is ₹ 14.20 lakh quintal, whereas the UT produces only 3.36 lakh quintals, thus dependent on the imports. Hence, this initiative is crucial for the region's food security and economic growth.
Celebration of  Sarson Festival:
Department of Agriculture, Kashmir has also  organised the "Sarson Festival" at the district level in Kashmir Division for disseminating the best post-harvest technology to be adopted by the farmers in oilseed crop.
Way forward
Work towards a Breakthrough in Seed Technology: The average productivity of the  whole Jammu and Kashmir needs to be increased to  at least 12  quintals  per hectare by the year 2030 to  meet the shortfall of 70 % in the J&K UT which is to  be minimized either by increasing the area under  oilseeds or by increasing the productivity levels of  oilseeds. Investing in research and development to improve seed technology can lead to the creation of high yielding and disease-resistant seeds, which can boost the production of oilseeds. Thus, it becomes necessary to assess the variability  for high yielding ability, high oil content.
Authors:  Syed Towseef Ahmad (MSc Genetics & Plant Breeding) and Ashiq Hussain Pandit (MSc Plant Pathology)