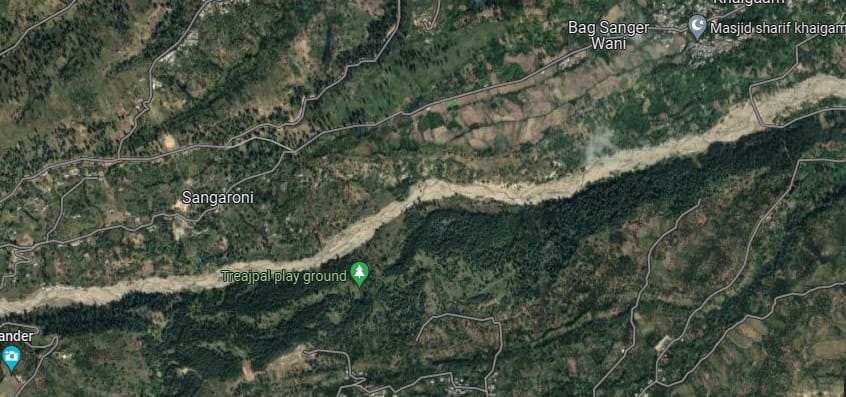 Budgam, June 28: Once devoid of trees and prone to soil erosion, several degraded forest areas of Budgam district have seen a positive regeneration of conifer forests in recent years. One of those areas is the Sangerwani-Kanidajan area along the Nallah flowing from Yusmarg forests and Sitharan near Tosmaidan.
When a group of environmental journalists visited the areas in recent days researching the forest cover in these areas, they came across one striking patch of lands where a significant new forest cover has come up in recent years.
"It has happened just in the last few years. This Kanidajan-Sangerwani slope was a degraded forest and then the Forest Department planted some saplings, and, in addition to that, there was some natural regeneration as well", a Forest Department official looking after afforestation activities in Budgam district told Ziraat Times.
Local villagers living in and around the areas see the afforestation in the area as a positive sign. "It has helped in many ways. Earlier the soil erosion was threatening a few habitations on top of the slopes in the Sangerwani area. Some villages near Kanidajan and Pakherpora were also facing similar issues, but the afforestation on these slopes has prevented soil erosion and created a good environment", said Talib Hussain, a local resident.
Villagers also say that the new forest cover has also created opportunities for them to collect firewood without good into deep forests and can also create conditions for feeding their livestock.
There is a similar case study in the Sitharan area. Large number of conifer trees were felled in the 1990s and later years here. But in recent years the Forest Department and a few environmentalists have joined hands to plant new trees there and create a new forest area.
The Forest Department is working hard in the area to ensure that such newly created forest patches are conserved, and we are working towards that, a senior official in the Forest Department said.