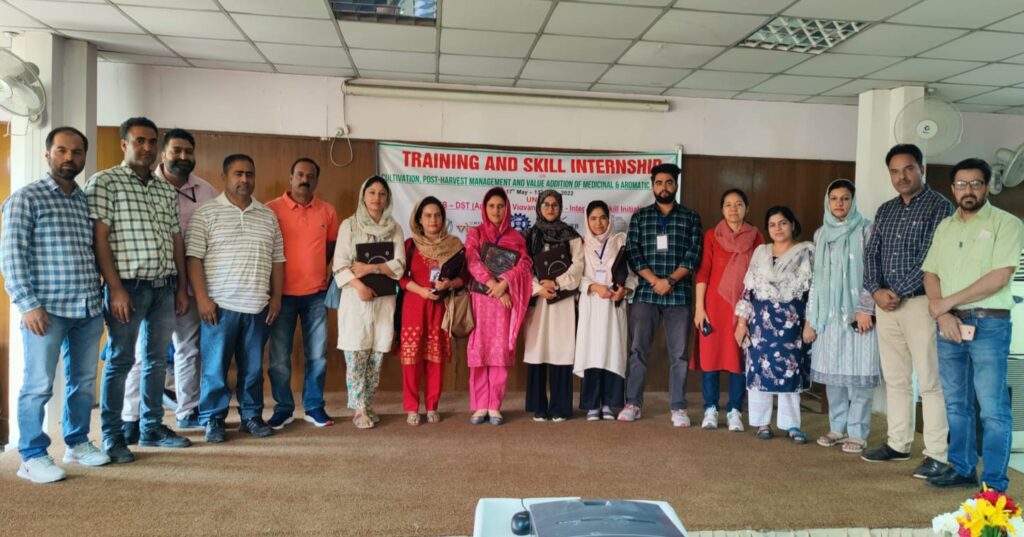 Srinagar, May 19: CSIR-Indian Institute of Integrative Medicine, Jammu is organising a four weeks Skill cum Internship programme on "Cultivation, Post-Harvest Management and Value Addition of Medicinal & Aromatic Plants".
According to a a statement issued to Ziraat Times, the programme was inaugurated today at CSIR-IIIM Srinagar Branch under the patronage of Dr. D Srinivasa Reddy, Director CSIR-IIIM Jammu under supervision of Er. Abdul Rahim, Chief Scientist & Head RMBD & IST and Dr. Zabeer Ahmad, Head CSIR-IIIM Srinagar Branch as Co-Patron. The Skill Cum Training Programme is being sponsored by SERB-DST through Accelerate Vigyan and CSIR-Integrated Skill Initiatives. Participants from different specializations of Agriculture and allied fields were selected to undergo Skill Cum Training Programme.
This program would facilitate the young talent to choose a career path and is planned as initiation and practice in science through research internships at post graduate levels and above. This program aims to provide opportunities to students from various universities and colleges in order to get exposure and hands-on research experience in MAPs. The objective of programme is to groom students at Post graduate levels in their scientific career pursuits by developing dedicated research skills, augmenting natural resources through cultivation, Value addition, post-harvest Management and Entrepreneurship Development in medicinal and aromatic crops for capacity building and developing human resource and training the youth for managing Plant resources of Jammu and Kashmir in efficient way.
Dr Muzamil Ahmad, Principal Scientist gave a brief overview of the CSIR-IIIM and informed the participants about the R&D activities taken by the Institute and its Rural Development and Extension activities through cultivation of Lavender and other aromatic crops.
Dr Qazi Parvaiz, Principal Scientist gave an overview of the use of Aromatic and Medicinal Plants in exploiting their rich extracts and essential oil towards large scale industrial applications like cosmetics, flavouring and fragrance, spices, pesticides, repellents and herbal beverages. It was also revealed that Lavender oil   promotes relaxation and is believed to treat anxiety, fungal infections, insomnia, eczema, allergies, depression nausea, and menstrual cramps.
Dr Nasir ul Rasheed, Senior Scientist and Coordinator of the SERB-DST (Virtika Programme) gave an overview of introduction of Farm Mechanization, Precision Agriculture, Post Harvest Management and Waste Technologies in Medicinal and Aromatic plants. He informed participants about scope of introduction of Agricultural Engineering in Soil Preparation, planting, crop care & Irrigation, harvesting, distillation as well as storage. He also credited Director CSIR-IIIM Jammu for encouraging and supporting CSIR-IIIM's outreach programmes through Skill Development, Training and Capacity building initiatives.
Dr Shahid Rasool, Senior Scientist while speaking on inaugural function informed about necessity of diversification of the agriculture systems from traditional to high value industry oriented crops for achieving maximum profitability.
Dr Firdous, Scientist explained sustainability of Plant Resource Management of MAPs while as Dr Khalid, Scientist gave an overview of value addition through Chemical compounds.
A formal vote of thanks was presented by Dr Phalisten Sultan who expressed his gratitude to Director CSIR-IIIM Jammu, Head RMBD & IST and Head, CSIR-IIIM Srinagar Branch, Scientists and Staff for making the inaugural event a grand success.
The Registration of trainees for inaugural programme was facilitated by Dr Nasheeman, Dr Padma Lay and Mohd Ayub.