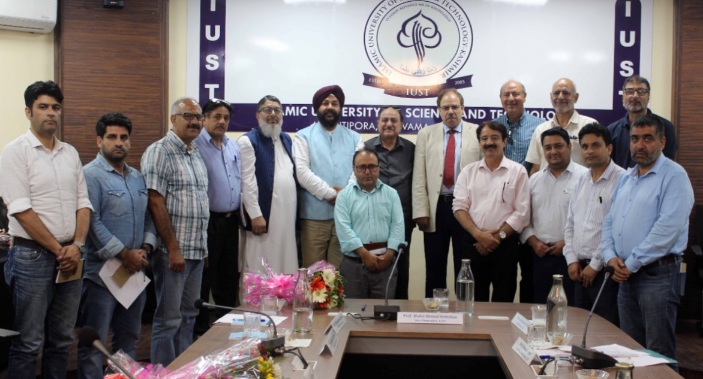 Srinagar, July 25: A delegation from PHD Chamber of Commerce and Industry was invited by Vice Chancellor of Islamic University of Science and Technology Monday with an aim to strengthen the university's relationship with the Chamber and explore opportunities for collaboration with the Industry. The delegation that included Baldev Singh Raina (Chairman PHDCCI Kashmir ), Mushtaq Ahmad Chaya (Mentor, PHD Chamber Kashmir), Vicky Shaw (Co-Chair PHDCCI Kashmir ), and members from executive body of the Chamber visited different sections of the varsity and interacted with Vice-Chancellor and other university officials.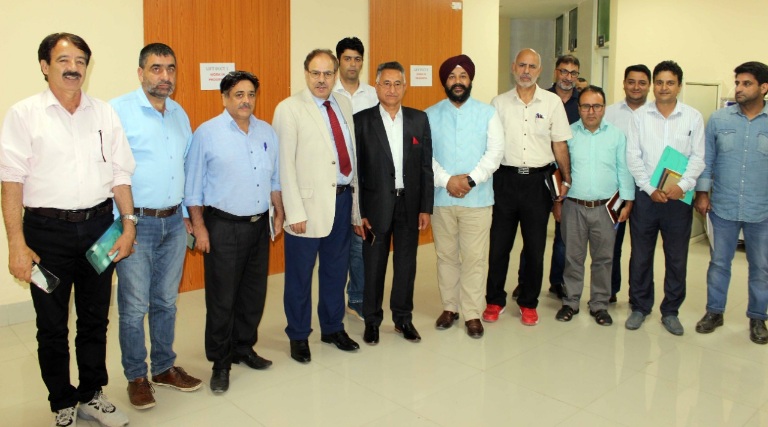 The other Executive Committee, Core Group Members of PHDCCI who were the part of delegation were Jan Muhammad Kaul (National Agencies) , Javaid Anim (Arco Group), Bilal Kawoosa (Kashmir Carpet and Silk Cluster Development Organization), Haleem Bhat – EC Member of PHDCCI Kashmir ( Shalimar Engineering Pvt Ltd – Escorts J&K ), Mushtaq Ahmed Mir – (Wizkids Consultancy and Financial Services), Himayu Wani (General Trading Corporation) and Iqbal Fayaz Jan (Deputy Director PHDCCI-J&K).
In his welcome address Prof. Shakil A Romshoo, Vice Chancellor, IUST said,
"Our engineers need to possess updated skillset. In developed nations, graduates are skilled enough to get good employment but, comparatively, graduates in developing nations lack advanced skills. In this regard, NEP 2020 is a revolutionary policy to introduce and enhance these skills in our graduates.", said Prof. Shakil A Romshoo, Vice Chancellor, IUST.
He further said, "Universities are breeding grounds for innovations and they need to be at the forefront to develop solutions to contemporary global problems".
Speaking on the occasion, Mushtaq Chaya expressed his willingness to enter into an MoU with the university. He also suggested that the university should introduce courses in Tourism and Hotel Management as these courses have great potential in Kashmir.
Baldev Singh Raina believed that career counselling is very important for graduates and it has to be a part of the education system. "We need to encourage youth to take up individual businesses, rather than waiting to get employed", he said.
During the interactive session, Javaid Amin announced that every year the best entrepreneur student from IUST will be awarded the Arco Cement Award of Excellence. He also suggested the university should offer courses that are 'Entrepreneurship and Innovation Oriented' rather than 'job-oriented', as an employee works for himself only while an entrepreneur provides employment avenues for others also.
Bilal Kawoosa said that Industry-Academia collaboration is critical for empowering the youth with appropriate skills and advocated the introduction of skill-enhancement courses at universities.
Appreciating the effortsof IUST in general and Vice-Chancellor in particular, in developing strong linkages with the industry, Jan Muhammad kaul said "Creating mass awareness about encouraging entrepreneur environment is equally important, and contribution of a university is very critical".
Mushtaq Ahmad Mir highlighted the financial skills which the present youth are lacking and shared his proposal and plan of equipping the youth with financial literacy skills along with mentoring courses that will help them to explore a career path for earning there livelihood.
Himayu Wani and Haleem Bhat gave some valid suggestions for industry academia partnership and stated some incidents where this partnership will help our future generations.
In his formal vote of thanks and address, Prof. Peerzada Amin (Controller Examination, IUST event coordinator) said that Industry and Academia are the two most important segments of society that need to be connected for the overall development of society.