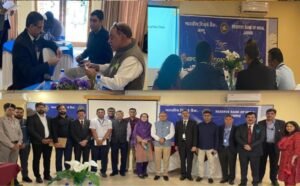 Srinagar, May 13: The Reserve Bank of India (Financial Inclusion and Development Department-Jammu) conducted its 54th Empowered Committee meeting on MSME for UTs of Jammu & Kashmir and Ladakh on Friday at Orchard Retreat Zakura Srinagar, which deliberated various matters related to J&K's and Ladakh's MSMEs.
In this meeting Mushtaq Ahamd Chaya, Patron PHDCCI and Chairman JK Hoteliers Club represented the PHDCCI and was accompanied by  Iqbal Fayaz Jan Deputy Resident Director PHDCCI-J&K, according to a statement issued to Ziraat Times.
The meeting was Chaired by Kamal P Patnaik, Regional Director, RBI, J&K and Ladakh, and was also attended by Sandeep Mittal, General Manager, RBI, Senior officers of major public and private sector banks in J&K and Presdient from JK Bank, PNB and SBI;  Tazayun Mukhtar Kawos, Joint Director, Industries and Commerce, Kashmir, Abhishek Chandra, Functional Manager, Industries and Commerce, Ladakh and representatives from SIDBI, HDFC, SBI.
The PHDCCI put forward various suggestions to facilitate an accelerated growth of MSMEs in the J&K and also to remove bottlenecks which hinder the smooth flow of credit to the sector. The hindrances for PMEGP flagship Schemes of the Ministry of MSME, which is capable of generating large-scale employment for youth of the J&K, was discussed and relaxation for CIBIL Score, CGTMSE and other issues were discussed in this regard and was asked to look into the matter and take steps for removing the hindrances and simplify the procedures with minimal formalities and technicalities so as to ensure that off take of loan under the scheme is improved.
The PHDCCI also suggested that banks should adopt a friendly and favourable approach towards borrowers and make them aware about various schemes available for availing loans. The Banks were directed to hold a joint awareness programme in association with PHDCCI to tackle the lack of awareness among the Micro entrepreneurs because most of the times the intended beneficiaries either know very little about the various schemes or know nothing to take advantage of it. PHDCCI said it will ensure that adequate awareness programmes will be held in association with banks for sensitization of various scheme and for handholding of entrepreneurs.