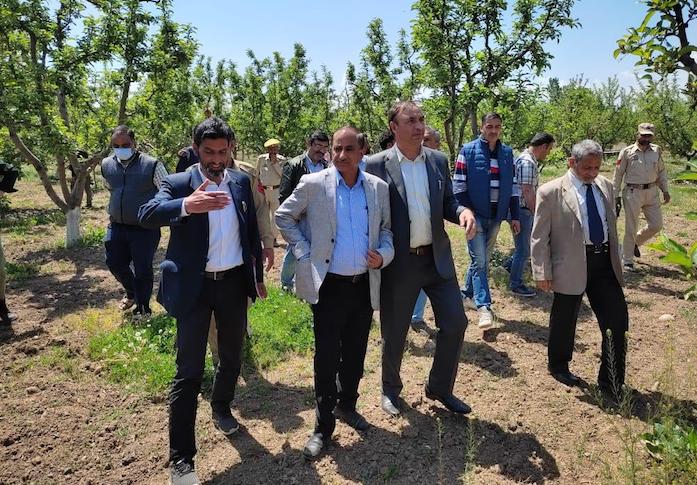 Srinagar, April 16: High level officials and scientists of the Horticulture Department, Kashmir and SKUAST-Kashmir today visited the Advanced Centre for Horticulture Development (ACHD) Zainpora and adjoining areas in connection with Leaf Miner pest concerns in the farms of the area.
According to a statement issued to Ziraat Times, the team comprising Director General Horticulture Kashmir Ajaz Ahmad Bhat (JKAS), Vice Chancellor SKUAST-Kashmir Dr Nazir Ganaie were accompanied by Director Research SKUAST-K, scientists from SKUAST-K, Chief Horticulture Officer Shopian and Bandipora, Farm Manager, Advanced Centre for Horticulture Development (ACHD) Zainpora and other officers of the Department of Horticulture. 
According to the statement, the team extensively visited the departmental farm and adjoining areas and "showed its satisfaction over the control measures taken by the department at the departmental farm and, likewise, advised the orchardists to replicate the same model in their fields to eradicate the pest."  
Speaking on the occasion DG Horticulture advised the orchardists "not to panic and ensured full cooperation with the department." He further directed the field functionaries to utilize all means of extension like awareness camps, posters, print, electronic, and social media to aware the farmers about the managemental practices for controlling the pest.
Moreover, the affected areas were advised to follow the below management practices for control of the pest.
Orchardists are advised to regularly monitor and survey their orchards and accordingly report to the department about the severity of the infestation and update same through the mobile application 'Apple Doc' which can be downloaded from google play store.

Orchardists are further advised to install yellow sticky traps around the trunk of apple trees.

Pheromones traps should be installed on large scale in the area.

For chemical control of the pest the orchardists are advised to spray any one of the following at 15 days interval.
Deltamethrin 2.8 [email protected] ml/100 litre of water.
OR
Chlorpyriphos 50% + Cypermethrin 5% @125ml/100 litre of water.