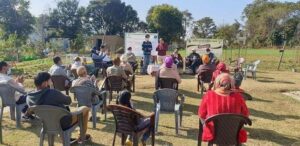 Jammu, Jan 4: Amid predictions of heavy rains in parts of Jammu and Kashmir for next few days, the Agrometeorological center of SKUAST Jammu has issued advisories for farmers while divisional administration Jammu set-up control rooms at every district.
Following the weather predictions, the Agrometeorological Research Centre, which is based in Sher-e-Kashmir University of Agricultural Sciences and Technology, Jammu and working on specific need of agriculturists and farmers, has issued an advisory. The Agro Division asked farmers to make elaborate arrangements for draining out excess water.
"Due to the possibility of light to heavy rains in the next 5 days, farmers are advised to make arrangements to drain excess rain water from wheat, mustard, oilseeds, vegetable and flower fields," said Dr. Mahender Singh, Senior Scientist & Incharge, Agrometeorological Research Centre, Sher-e-Kashmir University of Agricultural Sciences and Technology, Jammu.
Earlier, Divisional Administration Jammu has issued list of Important Helpline Numbers of Jammu Division in public interests following Weather Advisory from 03 to 09 January, 2022.
As per communiqué various divisional as well as district control rooms have been established by various key line departments for receiving calls for prompt actions.
As per communiqué the details of control rooms are Divisional Control Room JPDCL (PDD Department): 1912/ 0191-2479122/ 18001807183; Divisional Control Room PW (R&B) Department: 9419108480/ 9419174248;SDRF Control Room: 01912435285; Divisional Control Room Jal Shakti (PHE Department):0191-2547586/ 18001807045/ 9419205732/ 7006982500; Divisional Control Room Irrigation & Flood Control Department:0191-2582164/ 18001807169; Jammu Municipal Corporation Control Room: 0191-2520448/ 0191-2520428; Divisional Control Room Food Civil Supplies and Consumer Affairs Department: 9419143700/ 7006997062; Divisional Control Room Mechanical Engineering Department: 9419187739/ 7889400931/ 9419232787; Centralized Health Helpline: 104; Civil Defence Control Room Jammu: 0191-2549100; District Control Rooms.
The helpline numbers of districts are as under Jammu 0191-2571912/ 9622011623/ 0191-2571616/(DEOC), PCR 0191-2542000/ 0191-2560401; Samba: 01923-246915/ 01923-241004/(DEOC),PCR 01923-293777/ 9622071045; Udhampur 01992-272728/ 8717086503 (DEOC),PCR 01991-276915/ 9622205553; Kathua: 9018725999(DEOC), 01922-234311/ 9858034100 PCR
Rajouri: 01962-264544 DCEO 01962-262515 PCR: Reasi 9419839557/ 01991-245763 (DEOC), 01991-244956/ 01991-245076 PCR; Poonch 01965-222012(DEOC), 01965-220258/ 9086253188, PCR; Ramban 9419615662/ 700621489 (DEOC), 01998-266384/ 9906925595, PCR; Doda 01996-233337/18001807122 (DEOC), 01996-233530/ 7298923100 PCR; Kishtwar: 01995-259555 (DEOC), 01995-259193/ 9906154100 PCR.
People can contact concerned department in their respective districts in case of any exigency.
Pertinently, a statement issued by the local MeT office said that two successive Western Disturbances (WDs) are most likely to affect Jammu & Kashmir, Ladakh and adjoining areas from January 3rd (Late Night) to January 9th (Forenoon)."
—(KNO)