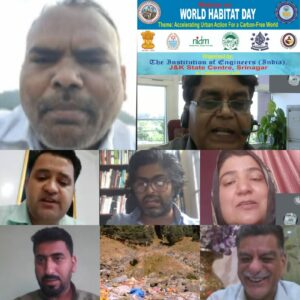 Srinagar, 4 Oct: Institution of Engineers (India), J&K State Centre, Srinagar, in collaboration with Divisional Administration Kashmir, National Institute of Disaster Management, J&K Forest Department, NIT Srinagar, SSM College of Engineering, Parihaspora and J&K State Emergency Operation Centre, organized a Webinar on the occasion of "World Habitat Day."
The theme selected this year was "Accelerating Urban Action For a Carbon Free World." The Webinar was inaugurated by Pandurang K Pole, Divisional Commissioner Kashmir and chaired by Er Aamir Ali, Chairman IEI J&K State Centre Srinagar. The Panelists included Irfan Ali Shah, Conservator Forests, Professor Amir A. Khan, Faculty from NIDM and Er Rahil Nazir, Disaster Risk Manager.
The Webinar was coordinated by Er. Aaquib Sultana Waheed Deva, Honorary Secretary IEI and moderated by Mohmad Suhail Wani, Bilquees Dar Consultants Disaster Management and Yogita Garbyal, Young Professional NIDM. The Webinar was attended by Council and Corporate Members of IEI from across the Country, students and staff of SSM College of Engineering and NIT Srinagar, besides members of Civil society.