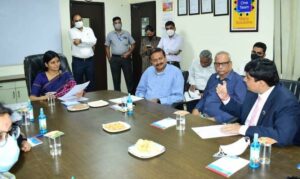 Jammu, Oct 14: Rahul Sahai Chairman PHDCCI Jammu led delegation of PHDCCI to meet and present memorandum to Anupriya Patel, Union Minister Of State for Commerce and Industry Govt Of India in Jammu, a statement issued to media said. 
Mr Sahai was accompanied with Pradeep Jain, pharma Industrialist  of Jammu M/s Pharose Remedies limited who took up issues of pharma sector of J&K. 
Sahai thanked Anupriya Patel for giving J&K many robust schemes for domestic industry e.g. product-linked incentive scheme (PLI Scheme) amounting to 5 to 6% which is worth Rs 1,97,000, organizing buyer seller meets, export promotion activities , improving ease of doing business , schemes for start ups , schemes like RODTEP , TIES , GEM Portal , Treds  etc .
PHDCCI Delegation suggested Mos I&C about various points which can boost commerce and industries in J&K 
Sahai suggested mass awareness programs of various schemes by the department like PIL SCHEME , Organizing buyer seller meets ( Product based ), Export promotion activity (Industry based and product based )  , Improving ease of doing business , Schemes for start ups , Schemes like RODTEP, TIES, GEM Portal, Treds  etc . Sahai  suggested to dedicate a special fund and special man power for  awareness of these programs also offered that PHDCCI and other associations can also take part in this.
Following are the other issued raised in the meeting which are reproduced by Ziraat Times without any changes or editing:
Regarding buyer seller meets there has to be some target that sector wise how many buyer seller meets to be organized and Govt should take full advantage of newly built JAMMU HAAT for it . Sahai suggested minister to provide expert source from Delhi to educate department to conduct  buyer seller meets at par with other industrialised states so that many sectors can grow in Jammu Kashmir  .In Export promotion activity some national players in agriculture , pharma and other experts be invited to J&K to train local producers to produce export acceptable crop with variety like medicinal plants etc
Sahai said that no doubt you are improving in EODB but in J&K it was talked about many times but in real sense we are far far behind in this , regular reviews should be there regarding time taken for setting up an industry where lot of departments are involved  for eg : land , power , water etc.
Sahai stressed upon Awareness sessions among Last year Higher education students to be conducted regarding schemes of start ups like fund of funds (worth 10000 cr ) , start up seed fund (945 cr) , Also Suggested  to involve IIT , IIM , Engineering colleges , Business schools in universities of Jammu and awareness programs be done in large scale so that new young students / entrepreneurs be encouraged and educated about start up schemes .
Regarding Remission of duties and taxes on exported products scheme ( RODTEP ) which replaces MEIS  mass awareness programs in J&K is needed as we have lot of pharma , walnut , Rice  exporters , but pharma has been excluded from RODTEP , requested  MOS  to include the Pharma sector as  lot of pharma industries are operating and giving employment in Jammu .
Sahai also talked about Trade infrastructure for export schemes (TIES ) Awareness for exporters and informed Minister that industrialist really don't know about this scheme . Regarding GEM Portal although our industries and commerce department has done a good job in industries enrolment but in jammu we have more small traders and businesses  , they also need to be enrolled massively .Regarding Treds Scheme  Coverage and reach and enrolment of big companies is a big problem , for Eg : AIR INDIA , HCC etc are not part of the platform  Requested Minister to highlight this .
Sahai stressed that in New Industrial Scheme Existing industry and New coming industry incentives should be at par .
PHDCCI Delegation recommended and suggested  that the Commerce ministry should recommend in the report that there is immediate need for relaxations in the RBI norms for NPA, CIBIL Score and Credit Rating, keeping in view the economic breakdown in J&K from 2014 due to floods, and then consecutive disturbances till reorganization of J&K in UT followed by Covid 19 National Lockdown. therefore the intervention in the form of one time Bailout Package is indispensable for the revival of economy of J&K . also the Emergency Credit Line Guarantee Scheme, ECLGS 3.0 announced by Ministry of Finance for Hospitality, Travel & Tourism, Sporting and aviation sector, should also be extended to all business sectors of J&K that are in stress from last four years. suggested that there should be Implementation of PM's Task Force recommendations on MSME for J&K which have remained unimplemented till date due to uncertain conditions.
The infrastructure of industrial clusters and estates are very poor in J&K, therefore we suggest that that the Basic Infrastructure like Construction of roads and provision of water supply, drainage, power distribution, non-conventional sources of energy for common captive use, common facilities such as first aid center of existing Industrial Areas/Estates/Clusters be developed under Micro and Small Enterprises Cluster Development Program (MSE-CDP) of Ministry of MSME GOI.In Automobile Sector The registration-road tax of 9% of New Vehicles  needs to be rolled back in union territory of J&K or it should be made at par with Himachal Pradesh or Chandigarh because of this tax rate the purchase of commercial/ private vehicles has been shifted to nearby states due to less tax slabs. As automobile sector is the major contributor in revenue and employment generation of J&K. The UT of J&K is presently losing significant amount of Tax revenue to nearby States who are having comparatively less tax rates in automobile sector.
Anupriya Patel , Union Minister Of State for Commerce and Industry Govt Of India gave a patient hearing to  PHDCCI Delegation and assured that ministry is very serious about their schemes to be implemented in letter and spirit  in J&K and will definitely keep these points in mind and will take regular reviews regarding these activities.  
Anupriya Patel was accompanied by Ranjan Prakash Thakur IRTS Principal secretary Industries and Commerce Department of J&K Govt who hailed suggestions made by PHDCCI and assured that ease of doing business will be implemented in letter and spirit with in a very short period and all the suggestions made by PHDCCI would be taken care.
Meeting was Conducted at UFLEX Industries Ltd  Bari Brahmana Others present were senior officers from Ministry of Commerce and Industries New Delhi , Anoo Malhotra Director Industries Jammu , Soumitra Brari Sr vice President Uflex Ltd and Subah Mehta GM DIC Jammu.