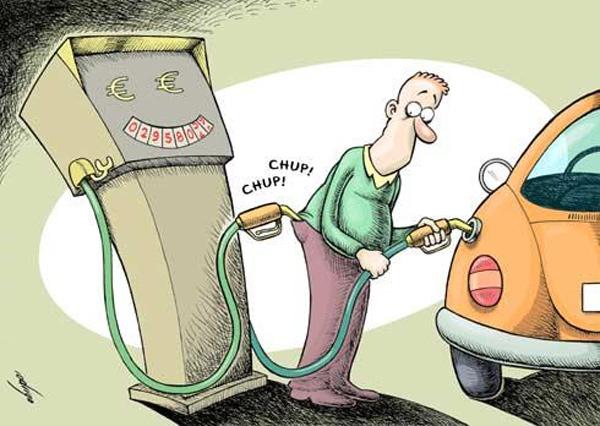 Srinagar: As petrol and diesel prices continue to rise across the country, Jammu & Kashmir is one of the few states faced with a double whammy of sorts – almost daily price rise and high retail inflation.
But what is making petroleum products like petrol and diesel one of the costliest in the country? Why are most of the goods and products in J&K's markets, except for those areas well connected with railway network in Jammu and Kathua districts, relatively higher compared with other states?
This week Ziraat Times' Economic Analysis Team set out to demystify the price calculus of petroleum products in J&K. Here are the key findings:
Current prices
On Monday, May 17, 2021 petrol prices in Srinagar rose to Rs 95.85 per litre, while the diesel price was at Rs 86.89 per litre. This is the 10th straight day of daily increase in the prices, and makes petrol and diesel in J&K among the costliest in the country.
On the other hand, prices in Jammu city were relatively lower – petrol price was Rs 92.28 per litre while diesel price was Rs 83.84 per litre.
Central excise duty, Sales Tax and VAT structure for petrol and diesel in J&K
Petrol and diesel price band in J&K has two tax components – central excise duty (which is in the range of Rs 13-16 a litre on petrol and diesel) and the sales tax/VAT at the state level.
According to sources in the Finance Department of J&K government, as of last week, Sales Tax and VAT for petrol in J&K consisted of 24% Motor Spirit Tax Rs.5/Litre employment cess. For diesel, sales Tax and VAT consisted of 16% Motor Spirit Tax + Rs.1.50/Litre employment cess.
Is the daily price rise benefiting petrol/diesel dealers (petrol pump owners) in J&K?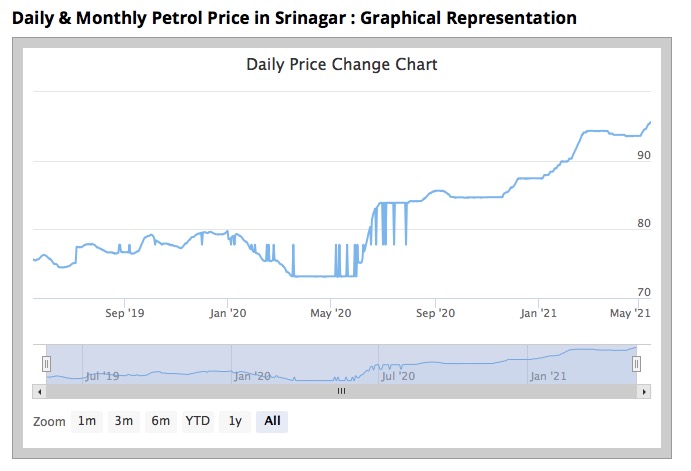 No, the daily rise of petrol and diesel prices is not translating into more profits for petrol/diesel dealers in J&K, while their operating costs are going up.
In an exclusive conversation with Ziraat Times, Mushtaq Rafique, President of Kashmir Valley Tanker Owner and Petroleum Dealers Association said that they were not happy with the daily price hike of fuel.
"Profit has been the same for many years now, our commission has not been revived with the increase of petrol prices", he added.
Anan Sharma, President, JK Petroleum Dealers Association (Jammu), while commenting on almost daily price rise of petrol and diesel in the aftermath of the recent State Assembly elections, said that 'at the time of elections, the rates weren't increased but once the elections were over the prices went up.'
"Presently all states impose state-level taxes as per their convenience, that is why there must be one common GST rate fixed throughout the country on petrol and diesel", he said, remarking that there are several unnecessary taxes on fuel, which are burdening the common people on daily basis. "Commission has not been revived but our investment has gone up", he added.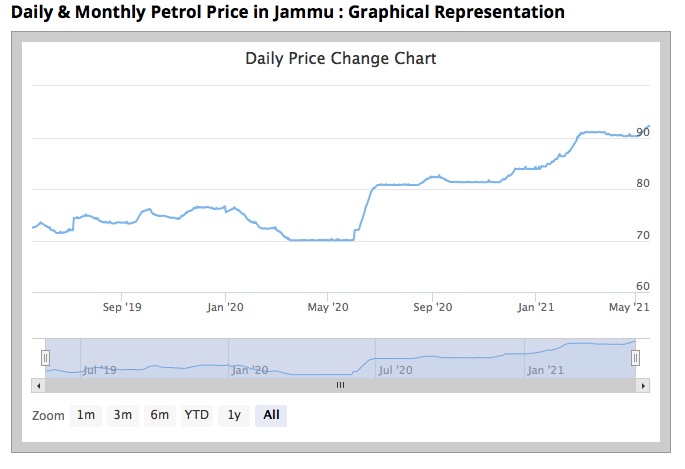 On the daily price fluctuations, which fuel dealers often see as a logistical and accounting challenge, Rahul Gupta, General Secretary of JK Petroleum Dealers Association (Jammu) expressed unhappiness the way taxes were modified on a daily basis.
"Prior to the present central government, there used to be a 15 days gap for any price rise of fuel, but now it has been reduced to 24 hours", he said.
"In effect, the prices rise every now and then. At the time of election this rise is stopped but once the elections are over the prices go up", he added.
Consumers often find themselves in surprising situations when they come to know about price hike at the time of the filling their fuel tanks at petrol pumps. And fuel dealers concede that it is a challenge for them too.
Prices across districts vary. Here is the district-wise break-up of the prices as on Sunday, May 16.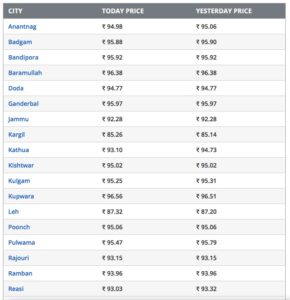 Rising operating costs of petrol/diesel retailers amid the pandemic
Mohsin Mir, owner of one of the leading retail fuel suppliers in Kashmir, agrees that while price rise of petroleum is due to international factors, the actual rate change happens because the oil marketing companies have started daily reviews of oil prices.
"Government taxes have increased on petroleum products, resulting in a burden for the common man. Petroleum dealers receive a fixed commission irrespective of the price rise", he said.
Javed Ahmed Ashai, General Secretary of Kashmir Valleys Tanker Owner and Petroleum Dealers Association, while maintaining that the petroleum prices rise due to the government's policy to generate revenues told Ziraat Times that 'profit margin for dealers is being decreased and commission rates are not witnessing any increase.'
"Our commission rates are not being revised, while, on the other hand, our operating costs are rising", he said.
The Covid19 pandemic situation has also added to the dealers' anxieties.
"Our staff should have been vaccinated as the front line workers. They have been working even in this lockdown and their lives are at stake", Bilal Ahmad, Spokesman of Kashmir Valley Tanker Owner and Petroleum Dealers Association said.
"Oil barrel prices are at $65 now as compared to more than $100 per barrel back in early 2000s and there is no price rise on the global stage but the excise duty has been increased by Indian Govt", he said.
"Commission rates for dealers are based as per litres and not percentage based.
Impact on inflation rate in Kashmir and other mountainous regions of J&K
This situation has resulted in sustained upward strain on the prices of goods and products, including essential commodities in J&K, especially in Kashmir region and the mountainous regions of Chenab and Pirpanjal valleys.
The cost of transportation of a truck between Srinagar and Jammu/Delhi has gone up between 40-60% in the last two years, a major distributor of fast moving consumer goods (FMCG) told Ziraat Times.
Impact on agriculture sector
Key agricultural and horticultural products, mainly vegetables from Kashmir valley, are losing their competitive edge because of high transportation costs involved in export.
"This situation might change only if there is a reliable railway connectivity and if the daily traffic hiccups and delays in the Banihal-Ramban sector are truly addressed", a vegetable exporter from Kashmir said.