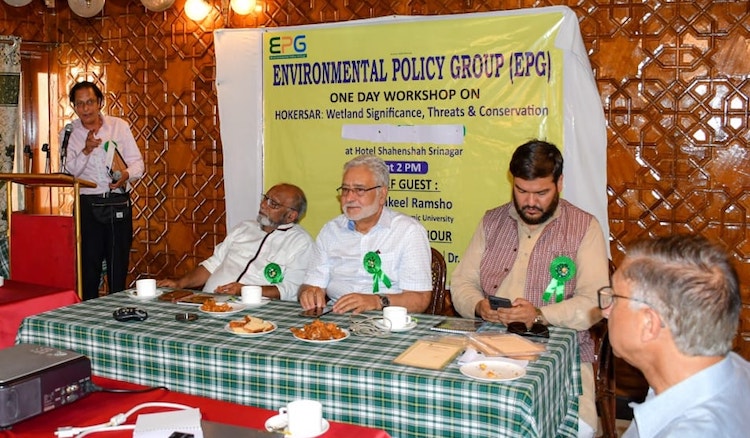 Srinagar, July 3: Kashmir's eminent environmental activists, subject experts, research scholars, lawyers, other civil Society members and students on Saturday debated the key conservation and advocacy issues faced by Kashmir's Hokersar Wetland.
The workshop titled – Hokersar: Wetland Significance,Threats & Conservation – was organized by Srinagar-based environmental advocacy group – Environmental Policy Group( (EPG). The event saw the presence of J&K's former Chief Information Commissioner and Advisor to J&K government Khursheed Ahmed Ganai, EPG Advisors, faculty members of several universities, members of Green Citizens Council and environmental activists from Wullar, Hygam, Hokersar, Gurez lakes and waterbodies.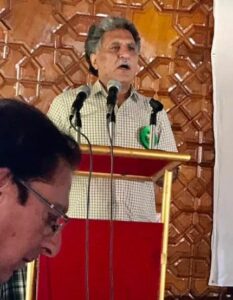 In his keynote address Khursheed Ahmed Ganai, J&K's former Chief Information Commissioner and Advisor to J&K government, advised environmental stakeholders to have more interactions involving experts, environmental organisations and Government officials at various levels for a result-oriented approach. He said it is important to bring in synergy in efforts to bring effective results towards conservation of wetlands and other water bodies. While offering his services for the purpose he  said it was high time that energies and resources were pooled for bringing about positive change.
On the occasion, a comprehensive PowerPoint presentation on the Hokersar Wetland was made by environmental filmmaker Er Abdul Rashid. The well researched power point report on Ramsar site – HOKERSAR – was presented by Saleem Beig, who is the convenor of INTACH J&K Chapter. The presentation highlighted various critical dimensions of the wetland and its conservation.
Dr. Bazhiga Badr, Associate Prof & Head Environmental Sciences Amar Singh College gave a detailed presentation on wetlands of Kashmir with special reference to Hokersar. The EPG- GC Member & Trustee Abdul Majid Bhat concluded the presentation session with a technical and scientific presentation on threats and conservation of the wetland. He suggested drilling of clogged springs, restoration of aquifers, stratum contouring, close interaction with various agencies for restoration of age old legacy, allocation of resources for restoration of Hokersar before onset of Autumn.
The Presentation segment was followed by Panel Discussion & question answer session. The panelists were EPG Advisors and Experts Engineer Ajaz Rasool, Dr. MRD Kundangar and Dr. Raja Muzaffar Bhat, who explained and answered questions in detail.
Er Ajaz Rasool Saheb spoke in detail about the ills inflicted on the Hokersar while Dr. MRD Kundangar dwelt on the loss of fauna and flora due to 'Ill-advised planning pursued vis-a-vis lakes, rivers and wetlands in Kashmir. The loss of Mahaseer fish was one such example, he said.
Dr. Raja Muzaffar Bhat spoke about the havoc caused to the Doodh Ganga river and resultantly the Hokersar – the recipient of Doodh Ganga discharge. He referred to his journey to National Green Tribunal for advocacy on various environmental issues. The Hokersar activists led by photojournalist Reyan Sofi made a moving visual presentation on Hokersar, while a team of Wullar Lake conservation activists led by Ajaz Ahmad Dar passionately pleaded the case of the waterbodies of District Baramulla & Bandipore with special reference to Wular and deteriorating status of Hygam Wetland. He invited EPG to hold a similar workshop in the area to generate a public debate about th conservation of these water bodies.
The EPG convenor, Faiz Bakshi, informed that a similar workshop had already been planned for Hygam Wetland and other venues of the area in coming weeks.
Haji Manzoor Ahmad Wangnoo, chairman of NLCO & NTTA, who is also credited with the Khushalsar & Gilsar Revival Project, spoke about the challenges and success of cleaning Khushalsar, Gilsar & Springs of Ganderbal District. He vehemently appealed for joint collaboration between NLCO & EPG for conservation of natural resources and related legal matters. He said the workshop was a great learning experience for him. Manzoor Wangnoo's work was lauded and applauded by the participants during the event.
On the occasion, Advocate Waseem Aslam gave a detailed legal perspective of environmental laws and their remedial application to existing environmental problems.
In the welcome address the EPG Convenor, Faiz Bakshi, spoke about the history of EPG, its constituent members, its activities, legal intervention through PILs, CMPs, pathbreaking orders, the hard work of its legal team, implementation of High Court orders and other aspects of EPG activities. He also expressed his gratitude to Fayaz Peerzada, Tauseef Ahmed, Javed Shah, Majid Bhat and other EPG-GC & Green Citizens Council volunteers who made the event a success.