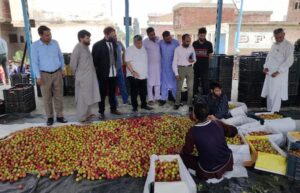 KULGAM, JUNE 30: The Director Horticulture Planning and Marketing (HP&M) J&K, Vishesh Paul Mahajan today visited Fruit and Vegetable (F&V) Market, Kulgam.
During the visit, the Director also chaired a meeting which was attended by the President Fruit Growers and Traders Association Kulgam along with members and various fruit and vegetable traders.
Various startup companies from Kulgam, young entrepreneurs also participated in the meeting.
Director on the occasion took a review of overall functioning of AMO Office especially with regards to status of allotments, functioning and working of allottees in the mandi.
Directions were given to the Engineering wing to maintain proper sanitation mechanisms in the mandi.
The Director also visited the Proposed CA store site at Brazloo and reviewed the possibilities of its proper usage.
Young Startup Company from Jaipur Innofarms CEO was also present and they were introduced to local youths for the machinery which Innofarms is providing for processing of C grade into pulp and juices.
Area Marketing Officer Kulgam, Mukhtar Ahmad Khan briefed the visiting dignitaries about the innovative marketing practices put in place at mandi to safeguard the interests of farmers.
Directions were issued for motivating farmers for availing schemes under ODOP and NHB.
Later, the information brochure for Kulgam district was unveiled by the visiting dignitaries.
The Director was accompanied by the Deputy Director (C) Manzoor Ahmad, Dy Director (K) Naheed Mir, Ex. Engineer HPM during the visit.