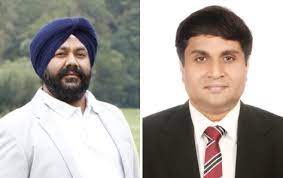 Srinagar/Jammu, May 11: The PHD Chamber of Commerce and Industry (PHDCCI) J&K chairs in a joint statement have demanded immediate rollback of the proposal for the average power tariff hike of 12.46%  & 17.74%  in domestic, industrial, commercial and agriculture categories.
Rahul Sahai Chair PHDCCI Jammu and Baldev Singh Raina Chair PHDCCI Kashmir Raina in a statement to Ziraat Times said that this proposed  power tariff hike would impact domestic  as well as industrial and commercial consumers.
"We therefore request the Electricity Regulatory Commission to thoroughly  examine the proposal of PDCL and  spare the poor and middle-class domestic and existing industrial and service sector consumers from this unnecessary power hike as all economic sectors and people are already saddled with uncertainty", the chairs said in the joint statement.
Requesting the J&K administration not to increase the electricity tariff for financial year 2022-23, the J&K chapter of PHDCCI said that the tariff applicable for all categories of consumers should be kept same level as the previous year. "The electricity commission and KPDCL & JPDCL should  consider it prudent not to hike the power rate because of problems faced by people of J&K  due to the Covid-19  lockdown and other issues", they said.
Rahul Sahai said 'the power tariff hike will be an unbearable burden on the common people'. He further added that even after enhancing the tariff, 'PDCL would neither be able to meet the revenue deficit nor the net revenue requirement of FY-23.'
The hike in electricity tariffs, unless accompanied by sweeping steps to improve the performance of distribution departments and improvement in power losses, would prevent the entity from achieving commercial viability and ensure returns which are optimal and sustainable, said Rahul Sahai.
"We request the UT administration to earmark the budget and additional funds as subsidy for electricity consumption by domestic and agriculture to neutralise the effect of increase in tariff. Also there should be announcement for free electricity for domestic consumers having monthly consumption upto 150 units. We are with an opinion that tariff should be based on the number of units used, as each household consumes power according to its ability to pay and we request to provide power to every household at an affordable price and structural reform in domestic power tariff and Industrial power tariff is need of the hour", added Baldev Singh Raina.