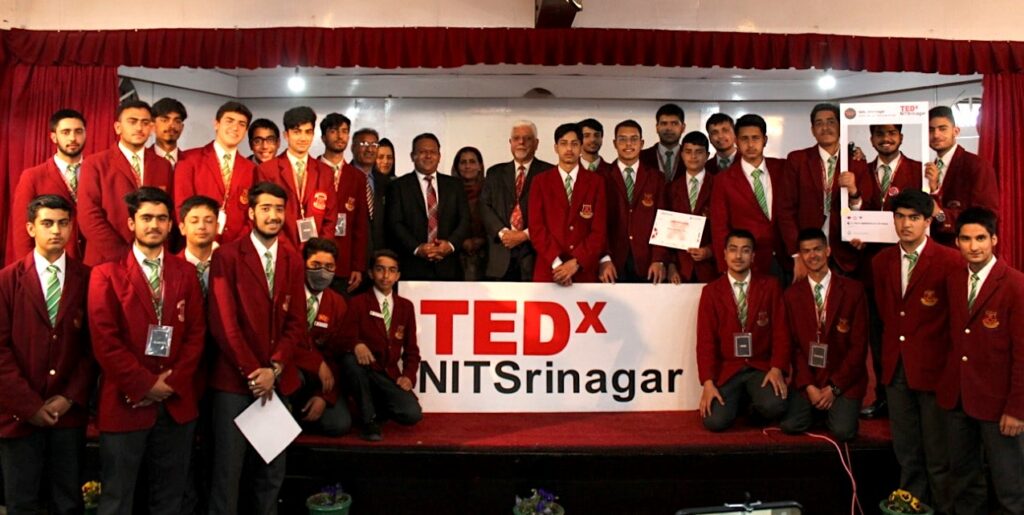 Srinagar, April 1:  TEDx National Institute of Technology (NIT) Srinagar Friday organized a mini TEDx talk competition at Tyndale Biscoe School. The event was attended by hundreds of students from the school.
TEDxNITSrinagar is being organized in various educational institutions of Kashmir by the Department of Training & Placement NIT Srinagar, under the guidance of Head T&P Dr. Obbu Chandra Sekhar, a media statement said.
The Chief Guests of the event were Director -Tyndale-Biscoe and Mallinson Society Parwez Samuel Kaul and Principal – The Biscoe & Mallinson School, Alistair R A Freese. While as Syed Aga Hadi Riza (Curator – TEDxNITSrinagar) and Mir Faizan (Licensee & Organizer – TEDxNITSrinagar) were the members of the jury panel for the competition.
In his key address, Director Tyndale-Biscoe and Mallinson Society, Parwez Samuel Kaul appreciated the students for working so hard to prepare for this elocution competition. He also thanked the TEDxNITSrinagar organizers for bringing TEDx to Tyndale Biscoe School and encouraged students to think positively of the future and hope for a better tomorrow.
In his message, Director NIT Prof. (Dr.) Rakesh Sehgal said such events inspire the students to accelerate in their respective careers, fields and are important for their all-round development.
Prof. Sehgal appreciated the Head Training & Placement Department, Dr. Obbu Chandra, and his entire team for making the event a grand success.
Institute's Registrar, Prof. Syed Kaiser Bukhari said motivational talks help students to believe in themselves and empower their confidence. It is always essential for students to stay motivated and have faith in themselves, he said.
On the occasion, Mir Faizan shared the journey of TEDx to Kashmir. He also made students aware of the topics to be covered during the mega TEDxNITSrinagar event.
He introduced TEDx and the Mini TEDxNITSrinagar competition to the audience and wished good luck to the participants.
Mir later thanked the sponsors of this event Broadway Education Hub, Resonance Eduventures, Chanakya IAS Academy, Web Cycle, and WHSS for supporting TEDs mission of sharing 'Ideas worth Spreading.
Before declaring the results of the competition, Syed Aga Hadi Riza motivated students to be a part of public speaking activities, as it helps a person in excelling in academic and well as professional life.
He also expressed his gratitude to the Tyndale Biscoe School and Ms. Fatima Muzamil for being such warm hosts, and for the smooth conduction of this impactful event.
A formal vote of thanks was given by the principal – Tyndale Biscoe & Mallinson School Alistair R A Freese who thanked NIT Srinagar and the Department of Training of Placement NIT Srinagar for bringing an International Conference like TEDx to the valley.
He also appreciated the efforts of the TEDxNITSrinagar team for reaching out to so many schools in the valley, so that students get a chance to live the TED experience and witness TEDxNITSrinagar. Mr. Freese congratulated the winners and appreciated Ms. Fatima Muzammil for her efforts in making this event possible.