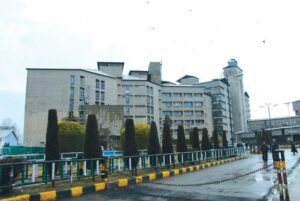 Srinagar, Jan 11: Sher-i-Kashmir Institute of Medical Sciences (SKIMS), Srinagar – long felt to be in a state of institutional flux sans modern administrative reforms – seems all set to introduce an electronic health records system and an online payment system.   
On Tuesday, the newly-joined Director, Prof. Parvaiz A Koul, after conducting a detailed review of the Hospital Information System (HIS), emphasized on installation and implementation of Online Payment Gateway System at the institute on priority to ease patients' interface with the medical institution.
He said the facility will make it convenient and easy for patients/attendants to make payment through an online system any time and anywhere using mobile phones, kiosks. More importantly it will decongest critical hospital service areas particularly OPD area, he added.
Prof Koul has also directed to establish a fully-developed Electronic Health Records System without delay to facilitate quick transfer of patient information as well as maintaining confidentiality which will prevent duplication of services and give instant access to patient information which would go a long way in helping quality research and settling medico legal issues, insurance claims and other issues.
While complimenting Prof Koul for his bold steps soon after joining the institute as its head, observers believe that these basic functional reforms should have been introduced at SKIMS much earlier. Hospital administration experts also believe that there is a huge scope for bringing in greater professionalism through global best practices in the management of emergency services at the institute, which can bring ease to the patients and their attendants as well as the stressful medical staff there.
Prof Koul has, meanwhile, also instructed concerned officers to explore the possibility of implementing PayGo Payment Gateway of the Ministry of Electronics and Information Technology Government Of India (A National Payment Platform) as used by AIIMS New Delhi.
Prof. Parvaiz A Koul insisted to make full use of IT System for quick Patient Care delivery which remains the top priority of SKIMS, he said.