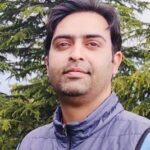 The COVID-19 pandemic has given further impetus to leveraging technology for education through online platforms, TV, radio, podcasts, etc. This entails internet access to students at a very young age, which further warrants ensuring that the children are made aware about safe use of internet aspects of cyber safety, including cyber bullying, trolling & other online harms Children may face. Safe Online Learning has to be our goal to ensure Children are safe, their mental & behaviour aspects are taken care of. School is projected as an integral part of Education to create an understanding among all stakeholders, including students, parents, Community on the need for co-creating a safe and secure school environment for the holistic development of children.
Thus synergy was the aim when Comprehensive School Safety Framework (CSSF) was unveiled in J & K by Samaghra Shiksha partnering with UNICEF. 
The CSSF came about after recent 'Guidelines on School Safety and Security', developed by the Ministry of Education for fixing the accountability the matter of Safety and Security of Children studying in Government, Government-aided and Privates, in line with the provisions contained in the National Education Policy, 2020.
Whole School Approach(WSA) of School safety as the basic premise in CSSF reimagines integration of safety and security aspects in education itself by including deliberations upon the health, physical, socio-emotional, psycho-social and cognitive aspects of school safety and security. It seeks to recreate an understanding among all stakeholders, including students and parents, on the need for co-creating a safe and secure school environment for the holistic development of children. There is need to bring in other allied departments other then Education department in to the picture in a more comprehensive Manner to bridge gaps in response to any contingency
New Education Policy, 2020: 
The NEP, 2020 explicitly states "A good educational institution is one in which each student feels welcomed and cared for, where a safe and stimulating learning environment exists, where a wide range of learning experiences are
offered." Para 5.9 of the policy lays down the need for adequate and safe infrastructure, adopting systems to ensure that teachers and students, including children of all genders and children with disabilities receive a safe, inclusive, and effective learning environment, and ensuring that in-service training has inputs on safety, health and environment at workplace in schools to ensure that all teachers are sensitized to these requirements. Safety of all inmates of residential hostels, particularly of girl children.
Para 8.5 (c) gives a framework for ensuring safety in schools. It states as follows: "To ensure that all schools follow certain minimal professional and quality standards, States/UTs will set up an independent, State-wide, body called the State School Standards Authority (SSSA). The framework for these parameters will be created by the SCERT in consultation with various stakeholders, especially teachers and schools."
What is WHOLE SCHOOL APPROACH (WSA):
A Child on an average spends 6 hours in school which is 1/3rd total time in a day, therefore Schools are accountable for a substantial chunk of the child's life, and thus have a huge  responsibility to make the stay in schools of all children comfortable, joyful, secure and safe. Therefore important for the school that everyone concerned with school education should understand his/her clear roles and responsibility towards school safety and security.
The Whole School Approach (WSA) is based on a humanitarian and developmental approach integrating sense of responsibility and accountability towards children in particular and society in general. Thus, involvement and participation of all stakeholders is the key to WSA. It is different then mere mention of school Safety in curriculum, training the teacher counsellors.
The school environment can be understood as the total of all features of school comprises the physical spaces, the norms, practices and culture and relationships that create the psychosocial environment.  School's physical environment encompasses school buildings, school grounds and surroundings; the social environment includes the norms of behaviour ,culture, the discipline, the relationships and the interactions; while the psychological environment encompasses the attitudes, feelings, values and behaviours manifested and encouraged.
It needs the collaborative working of School Management, owners in case of private schools, Parent Teacher Association (PTA), SMC(school Management Committee),SMDC (School Management & Development Committee) in government schools, principals, teachers and all school staff (Sports staff & School Nurses), as well as parents, students and the wider community. 
Key Features of Whole School Approach towards school safety
Infrastructure safety
Availability and maintenance of essential physical resource  rooms, laboratories, libraries, grounds, toilets, dispensary and transport very crucial. We know poor infrastructure directly or indirectly results in inadequate development & often harm to Children in case of a Disaster situation. Section 19 of the RTE Act, 2009 lays down norms for school buildings.
School should provide these basic Safety requirements: 
Display the School Safety Pledge at a prominent place in the school.

Provide barrier-free infrastructural facilities and necessary equipment to differently-abled children.
iii. Provide sufficient and safe drinking water.
Provide sufficient number of well-lit, airy toilets with proper fittings, with safe and secure access for boys and girls.

Ensure compliance with Building Codes.

Make efforts to design more and more buildings with the provisions for efficient/renewable energy, such as, solar power use of solar cookers and biogas.
vii. Provide boundary wall or a fence to mark the safe area.
viii. Ensure that the isolated areas are well lit and there is frequent invigilation of such areas.
Regularly monitor communication systems in the school such as landline phones etc. for their functionality.

To the extent and only if and wherever possible, CCTV cameras may be installed at the entry points, exit points and vulnerable locations in the School. Proper monitoring and storage of recordings in such cases must be ensured.

There should be child safety posters, POSCO E-Box details and Child helpline number on display in prominent locations of the hostel in residential schools.
xii.  Pre-school centres should be located on the ground floor, ensuring a child-friendly access.
Accountability: 
Accountability is inbuilt fixed immediately on school Management, Principal & teachers to adhere to the legal provisions, Guidelines towards providing safe conditions for children in school,to be aware of their legal responsibility in case of any negligence. Responsibility is a wider term that encompasses various functionaries at various levels of hierarchy.  In school education system – School Management, Principal, Head of School, teacher administration supervising the government/government-aided school (particularly w.r.t to safe infrastructure, mock drills, training, etc.) are accountable for ensuring the safety and security of the children in school. 
Psycho-social safety:
Psychosocial safety focuses on stress-free environment for conducive teaching learning in the classrooms. It promotes positive student-teacher relationships, violence prevention in schools and ensures socio emotional development in students. Unusual behaviors, continuous absence from classes or any other signs of stress or depression, if observed, may be brought to the notice of parents for follow up with the counsellor at nearest Adolescent Friendly Health Clinics (AFHCs) / Health & Wellness Centres (HWCs).
Schools should make provision for strong action against teaching and non-teaching staff in case any involvement in or negligence of physical or sexual violence, bullying and/or corporal punishment, subjecting the child to physical or psychological harassment (Section 17 of the RTE Act 2009). All the efforts, talents of the child should be appreciated rather than just emphasizing on scores to reduce exam-related stress and suicidal tendencies.
As recommended in NEP 2020, group counselling and guidance can be provided through an online, offline or blended mechanism. Students can also avail counselling through Manodarpan, an initiative of Ministry of  Education, which mobilize psychosocial support for Mental Health and Well Being of Students during Covid 19. 
Curriculum:
Curriculum should not promote any kind of discrimination, gender bias, environmental protection & ethical behaviour. Schools should provide enough space for dialogue, reflection and discussion on school safety, on-road safety, healthy and nutritious food, adolescence issues. Space should also be created in the school schedule for the training and drills to strengthen disaster risk Education.
Assessment and Examination:
Assessment and examination in schools must be non-threatening all the assessments and examinations at the school level need to focus not only on cognitive Iearning but also on psychomotor and emotional learning. In this direction School Based Assessment (SBA) is rolled out wherein teachers are trained to assess Children for life skills, social-emotional learning focusing more on student's strengths rather than on weaknesses. 
The progressive  report card will be a holistic, 360-degree, multidimensional report that reflects in great detail the progress as well as the uniqueness of each learner in the cognitive, affective, and psychomotor domains. The holistic progress card will form an important link between home and school and will be accompanied by parent-teacher meetings in order to actively involve parents in their children's holistic education and development".
School Management Committee (SMC).
SMC in case of a Government Schools, & Parent Teachers Association (PTA) in Private sector need to be on board to discuss, participate and implement the safety measures.
We have seen how buildings crumble, turn to ashes in fire incidents,are washed away in floods. Schools too are no different to these hazards which can take shape of a large scale Disaster. No society can bear the loss of children as we once witnessed, in Kashmir earthquake 2005.  So, time is now to prepare for any eventuality with resources, plans, Capacities put to practice.
Let's pledge to our school is a Safe, Secure & Happy place for all especially for children who are the most vulnerable section in our society. Regular training of all stakeholders in School Safety, convergence of all steps towards School safety can ensure our children in school a holistic development.
(The writer is Educator/Disaster Risk Education Practitioner, Department of School education, Kashmir)