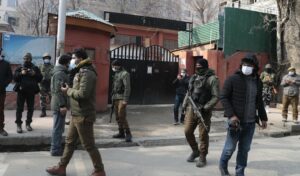 Srinagar, Jan 15: As many as nine Kashmir journalists' associations have taken exception to the manner administration of Kashmir Press Club was changed from a democratically-elected body to another body today. Those associations that have signed off the joint statement include: Journalist Federation of Kashmir (JFK), Kashmir Working Journalists Association (KWJA), Kashmir Press Photographer Association (KPPA), Kashmir Press Club (KPC), Jammu and Kashmir Journalist Association (JAKJA), Kashmir Video Journalist Association (KVJA), Kashmir Working Journalists Association, Kashmir National Television Journalist Association (KNTJA), Kashmir Journalist Association (KJA).
Ziraat Times here reproduces verbatim the joint statement issued by the association:
All the Kashmir-based journalists have expressed anguish over the illegal and arbitrary takeover of the Kashmir Press Club by some journalists with open support from the local administration. On January 15, the day when the administration had declared weekend lockdown in view of Covid surge, a group of journalists barged into the club office and forcibly took control of the club by keeping the office members hostage. Large number of police and paramilitary personnel were deployed beforehand for this highly condemnable and completely illegal move.
The administration, by allowing a few disgruntled elements to hoodwink the Club constitution, bylaws and flout all norms of law, has set a wrong and dangerous precedent. The authorities had already communicated about the mandatory re- registration, which was initiated by the KPC management, but it took authorities more than six months to verify the credentials of the management body. On 29 December, the reregistration was finally issued following that the Club decided to initiate the process of fresh elections and also announced the date. But all of a sudden a group of journalists, including some non members, approached the district administration with a proposal for an "interim body" and it is followed by a communication from the government that the re-registration has been kept in abeyance.
This move, in which a group of journalists self-appointed itself as an "interim body," is uncivil, illegal, unconstitutional and without any precedence. It has been taken at a time when the process of registration is still pending before the authorities.
All journalist bodies are unanimous in the view that this unfortunate move by a disgruntled lot has set a dangerous precedent by forcing their way into the club office in violation of the KPC constitution and bylaws. The Press bodies have decided to take legal recourse against the perpetrators .
We appeal to the press bodies across the country including Press Council of India, Press Club of India, Federation of Press Clubs and Editors Guild of India to take a strong note of how the local administration is supporting lawlessness and throttling a democratic media body. If such incidents are allowed to happen with a Press Club in Kashmir this can be precedence for future.
Srinagar
January,15, 2022
Journalist Federation of Kashmir (JFK)
Kashmir Working Journalists Association (KWJA),
Kashmir Press Photographer Association (KPPA)
Kashmir Press Club (KPC)
Jammu and Kashmir Journalist Association (JAKJA)
Kashmir Video Journalist Association (KVJA)
Kashmir Working Journalists Association
Kashmir National Television Journalist Association (KNTJA)
Kashmir Journalist Association (KJA)