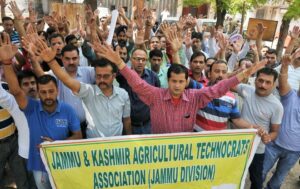 Jammu, Jan 15: Today on 16 January, 2022, the monthly meeting was organised under banner of Jammu and Kashmir Agriculture Technocrats Association (JKATA) at Exhibition Ground, Jammu. The meeting was presided by its President JKATA Dr Surinder Radotra and several burning issues were discussed. According to a media statement received by Ziraat Times, the main issues discussed at the meeting include:
1. Restoration of old pension scheme for all AEA recruits with effect from Ist April, 2007.
2. Conduct of promotion of AEAs to JAEO & regularsizing incharge JAEO as confirmed JAEO (both regions) was taken up for discussions in the meeting.
3. Comprehensive transfer policy in favour of AEAs was also demanded by the forum.
Demanding the restoration of old pension schemes for its cadre, it was stated that in January 2004 the central government introduced a new pension scheme NPS for the government employees recruited after December 31 2003 to replace the one under the central civil services ( Pension)  Rules 1972.
Jammu and Kashmir Government scrapped old pension scheme on 1 January 2010, but agriculture technocrats joined Agriculture Department as Rehber e Ziraat  on Ist April 2007 after state cabinet approval. The new pension scheme doesn't provide the guarantee of minimum pension on the last basic salary drawn by the employee and that the new pension scheme has failed to deliver the perceived benefits.
While addressing the gathering Dr Surinder Radotra President JKATA demanded immediate restoration of old pension scheme w e f ist April 2007. Further it was strongly demanded to include period of seven years of REZ as period of regular service on the analogy of ReTs, (Rehbar-e-Taleem) who have already been benefited. Since these, agriculture technocrats are on the wrong side of age factor (Maximum candidates have already crossed 45 years of age) and length of their service left is very less. To secure their future and to address this human cause with a healing touch, the inclusion of our 7, 8 & 9 years of service as REZ should be considered.
It was further stressed to conduct promotion of AEA and complete regularisation of in-charge JAEOs of both division.
Speaking on the occasion Dr. Radotra urged the LG adminstration to provide old pension scheme for NPS employees of J&K  so that  their post retirement life not be in trouble. Various
Employees on the occasion demanded old pension scheme for the NPS employees and also said that soon they would formulated a strategy to press the government to consider their genuine demands.
JKATA urged Lieutenant Government Manoj Sinha, Chief Secretary Dr Arun Mehta and Principal Secretary Farmers Welfare and Agriculture Production Navin K. Choudhary to intervene for the well-being, motivation and career progression of the young agricultural technocrats of both divisions of J&K.