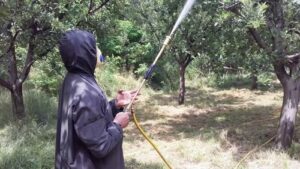 Srinagar, Jan 9:  Jammu & Kashmir's Rs 11,000 crore fruit sector is likely to face crunch situation in the upcoming fruit season as the Central Insecticides Board (CIB) has authorized only one manufacturer, out of eleven, to supply Horticulture Mineral Oils (HMOs) to J&K.
This development comes after the CIB found only one supplier of HMOs meeting the established quality and other legal criteria.  In the face of this situation, Jammu & Kashmir Horticulture Production, Marketing Corporation (JKHPMCL) has now been asked by the government to explore the possibility of importing HMOs from other feasible countries to avert any supply crisis in J&K, Ziraat Times has learnt.
This was disclosed at a meeting held recently of the top officers of the Agriculture Production and Farmers Welfare Department, which was chaired by the Principal Secretary to Government, Naveen K. Chowdhary. All the Directors of Horticulture and Agriculture Departments, besides MD JKHPMC, Law Enforcement, J&K and representatives of Tree Oil companies were present in the meeting.
According to the minutes of the meeting issued on 7 January, 2022, a copy of which has been accessed by Ziraat Times,  it was made clear that the license to stock and supply tree oil in J&K could be granted to the companies only once they are registered with Central Insecticides Board of India.
Additional Secretary to the Government, Horticulture Department informed the meeting that as per the communication received from the Secretary, Central Insecticides Board and Registration Committee, out of the 11 suppliers who would normally supply HMOs to J&K, only one has been approved. However, a formal notification to this effect is yet to be issued. 
Further, out of rest of the 10 suppliers, who have not been approved, there are deficiencies in case of 7 suppliers and the cases of the other three suppliers are under scrutiny.
During the course of the meeting, the representatives of the suppliers of Tree Oil Sprays had requested for permitting them to stock and supply the HMOs for the upcoming season.
However, Director Horticulture, Director Law Enforcement and Director Agriculture have been directed to ensure that no illegal dumping of HMOs in any form takes place in J&K.
Horticulture Mineral Oils are an important component of disease management in Kashmir's fruit orchards. These oils can be used for early season control of pests that overwinter on trees and shrubs, or it can be used during the growing season for variety of pest problems.
Meanwhile, a senior official of the Agriculture Production and Farmers Welfare Department told Ziraat Times that the government was cognizant of the situation and that no such measure would be taken that could create a supply crisis.
"We are working on several plans. We will ensure that fruit growers will get adequate supplies at the onset of the fruit season", he added.