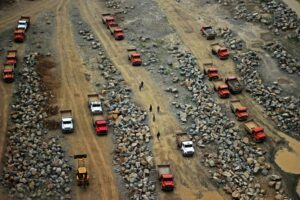 JAMMU, JAN 14:  J&K's Department of Geology and Mining has so far e-auctioned 384 minor mineral blocks during the last two years generating a revenue of around Rs 321 crores, an official statement said today.
The revenue generation has seen a quantum jump of over 500% from previous years, wherein revenue realization was to the extent of around Rs 50 crores only, the statement said. The department has launched an e-services portal for the applicants for grant of services like mineral dealer license, mining leases, short term/disposal permits etc, it added.
Moreover, to ensure the assured supply of raw materials to the Government agencies for the development of various projects of national importance in J&K, 13 minor mineral blocks have been reserved for Public Sector Undertakings (PSUs) constructing these projects. These PSUs are required to supply the material to public works only at a Government prescribed rates thereby keeping checks and balances with regard to the availability and rates vis-à-vis private players in the field.
The department has e-auctioned a total of 384 minor mineral blocks and issued a Letter of Intent (LoI) to 374 allottees. Moreover the department has also granted 133 mining leases, 08 leases to PSUs, 21 STPs, 03 Quarry Licenses and 03 private mining leases.
The requisite formalities for operation of unit have been restricted merely to gaining consent to operate from Pollution Control Board and NOC from Deputy Commissioner concerned with regard to the title of land and its usage. Earlier the unit holder had to seek NoCs from a number of departments.
The Mining Department has also dispensed with the requirement of License to start operation of stone crushers/ hot and wet mixing plants in J&K.
The Department has also declared the extraction of brick earth in an area up to 02 (two) hectares and up to a depth of 02 (two) meters for making bricks in brick kilns as non-mining activity. The move has ensured the exemption of the activity from the requirement of prior environmental clearance.
The department has also in the recent past granted short term permits to the Principal Executing agencies of Indian Railways, National Highway Authority of India (NHAI), Airports Authority of India (AAI), IRCON, KRCL and NHIDCL to mitigate the scarcity of key construction material within J&K.
Moreover, PRIs were also made eligible for acquiring short term permits for mining of minor mineral blocks of areas upto one hectares. The material so produced/procured can be utilized by the PRIs within their panchayats for undergoing developmental activities. The department has so far identified 70 minor mineral blocks for this purpose.
The department has also devised mining surveillance system and establishment of mineral check posts through CCTV cameras to control and monitor illegal extraction and transportation of minor minerals.
For compliance to NGT directions, the department has made it obligatory that every lease of minor minerals shall be subjected to an independent Environmental Audit. Such an audit should be done at least once a year by a reputed third party entity and report of such audit be placed in public domain, the government statement added.
The mining lease holders are also responsible for re-grassing the mining area and any other area which may have been disturbed due to their mining activities and restore the land to a condition which is fit for growing fodder and nourishment of flora and fauna.