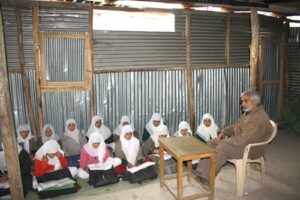 Srinagar, Nov 25: Jammu & Kashmir government has initiated the process of merging about 2000 schools to what it calls strike a balance between the ratio of teachers and students.
While this move is expected to rationalize the teacher-student ratio and improve public spending efficiency in education sector, education experts Ziraat Times spoke to have raised the concern that merging of schools could mean that some schools would now be less accessible to students because the physical location of the merged schools may now be different than the existing location.
The Education Department has initiated a study to systematically analyze the teacher-student ratio considering that in certain public schools the number of teachers was much higher as compared to students. The study report has noted that, on the contrary, teachers were less in number compared to number of students in many other educational institutions.
In his monthly episode of the Radio programme 'Awaam Ki Awaaz', Lieutenant Governor Manoj Sinha had also talked about the matter and said that a merger of 2000 more schools is being studied.
"Already, we have merged many schools being run under Smagra Shiksha Abhiyan (SSA). Still, there have been reports that certain educational institutions have eight students and four teachers while others have 70 students and four teachers," Mr Sinha had said.
According to the government's analysis there were certain schools where 20-25 teachers have been posted for 100-odd students, while in other educational institutions, there were 3-4 teachers for an almost equal number of students.
As per the Right of children to free and compulsory education Act 2009, the Teacher-Student ratio is supposed to be 1:35, meaning one teacher for 35 students.