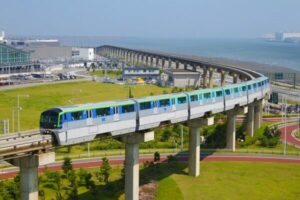 Srinagar, Oct 17: On Wednesday, October 15, Union Minister for Petroleum and Housing & Urban Development, Hardeep Singh Puri announced on his Srinagar visit that the Metro Rail Project in J&K will be approved by next week.
This announcement comes after Jammu & Kashmir's State Administrative Council (SAC) led by the then Lieutenant Governor Satya Pal Malik on June 10, 2018, gave its approval for what is technically referred to as the 'Elevated Corridor Option' for Srinagar Mass Rapid Transit Corridor. 
This project, coming up at an expected cost of over Rs 20,000 crore, is billed to address Srinagar's future transportation needs. However, as highlighted in a Ziraat Times report in 2018, experts opine that the project approval should have been preceded by a wider and informed public debate, guided by crucial environmental, socio-economic and financial cost-benefit questions.
Ziraat Times this week engages with knowledgeable and well-informed urban planning, environmental and economic experts on the questions of environmental risk management, financial viability, project management capacity and other socio-economic factors associated with the project. 
Key questions about the 

project

 that experts feel need to be addressed
1. Is Srinagar Metro – considering its huge cost of over Rs 20,000 crore – financially feasible and viable? Has a detailed cost-benefit analysis been done? Will the metro generate enough traffic and revenue so as to re-

pay its loan and maintenance costs?

 
2. Social impact assessment: Has a detained assessment been done for the likely impacts on Kashmir's public transport sector, already reeling under back-breaking business slump and bank loans? What about its impact on the overall aesthetics of the city? Impact on the traditional architecture falling along its routes? Is there a traditional architecture preservation plan associated with the project? How far would the project affect traditional livelihoods along its routes, with declining surface transport? What about the relocation of communities that might get affected by the overhead part of the project?
3. As indicated by the project assessment report itself, Metro projects are known to be viable for cities with a population not less than 4 million. Will Srinagar metro have the critical mass of users considering that city population is about 1.5 million? 
5. Environmental impact assessment: Has a credible environmental impact and mitigation plan being carried out for this project? 
6. Are there any better transportation alternatives that could have been considered before going for this project?
What experts say
Well-planned and sustainable urban development for fledging Srinagar city is indeed a priority, considering its fragile environment, population growth and limited land availability. Improvement in urban transportation means is important too. However, it is fundamental for any developmental project, designed to generate revenue for sustainability reasons, to clearly demonstrate financial viability, environmental rationale and socio-economic sensitivity, urban experts opine. 
"The planned Srinagar Rapid Transit Transport System seems to be conceived in a hurry. There are several sustainability issues, and also the methodology of project design, that needed a broader civil society debate. It is not a healthy development practice for a company to undertake a feasibility analysis without engaging in a credible and broad-based social consultation process. Lately, several development projects in Jammu and Kashmir have been designed devoid of necessary consultations with the critical actors of the economic, social and the political system. A number of such projects today are no better than the proverbial white elephants. Such development planning requires a serious rethinking", experts believe.
What the needs assessment for Srinagar Metro Transport Project says:
As per the Comprehensive Mobility Plan (CMP) of the Srinagar Metro Project, only 12% trips of the planned Srinagar project are more than 10 km. As per CMP, the recommended 

Peak Hour Peak Direction Traffic (PPHPDT) for having a Metro system is 30,000 and above. The maximum passenger demand is 9,100 – 14,400 PPHPDT on high capacity corridors for which Metro will be inefficient and very expensive. Also, 12% trips are too few to be considered for a high capacity metro rail system for the city. However, inter-city travel trips, which are majorly dependent on private transport, should be replaced with a high-speed public transport system. 
Srinagar, being the socio-economic hub of Kashmir Region has an immense inter-city travel requirement. However, Srinagar is the primate city in Kashmir Region enjoying the influence on its regional and sub-urban centers as a result of which a large number of commuters shuttle between Srinagar City and nearby towns viz; Anantnag, Pulwama, Budgam, Baramulla, Ganderbal etc. Most of these commuters travel by buses, para-transit modes, personal vehicles as well as by trains. Since road based transport is time consuming, expensive and uncomfortable, the general preference is to use the rail system which is faster, comfortable and economical. As per CMP, it is provided that by developing a dedicated public transport service between Srinagar and its regional/sub-urban towns, at least 60% modal shift will take place from road-based transport system to rail based system. 
It is proposed that all towns and cities around Srinagar be connected by this system in a phased manner with improved interchange facilities in the city at well-designed interchange stations. The city needs to have a long term Mass Rapid Transit System implantable over next two decades as metro rail provides a safe and efficient public transport. This will elevate the overall level of public transport systems and range of user choice in the city. The MRTS is proposed to be partly elevated and partly underground. Primarily, the focus area should be the core city in Phase I followed by its extensions to suburbs in subsequent phases. It has to be properly integrated with the Commuter Rail System to provide efficient interchanges for the commuters. 
Have all these considerations been taken care of in the approved project?
Questions of financial viability
The mode of finance for the Srinagar rapid transit system needs to be clearly articulated. Quite naturally, neither the state nor the union government would put its money into this kind of a project. In other words, financial resources for this project will come from borrowing at a certain interest obligation and other conditionalities.
There are ample feasibility studies that establish that such costly transportation system could be financially viable for cities with a population over 4 million. Srinagar's urban conglomeration consists of a population not more than 1.5 million. Even if we were to add a floating population of 500,000, the critical mass of potential users for this planned metro system does not seem to reach the desired level. Under these circumstances, it is difficult to imagine how this project would raise the necessary revenue to cover not only the operational costs but also the resources required for the loan repayment.
Major cost over-run through the DPR preparation process
RITES agency was entrusted with the development of a Detailed Project Report (DPR) for Srinagar Metro Project in April 2017. The DPR was expected to be ready by September, 2017. Interestingly, while in 2017, the Srinagar metro project was estimated to cost Rs 15881 crore, there has been significant cost estimation overrun during the last three years, with the projected cost now estimated over Rs 21,000 crore. 
Planned Metro corridors in Srinagar
The planned metro project in Srinagar is likely to be undertaken in two phases. 
MRTS Corridors – Phase-I : 
i) Srinagar Airport to Pandach via Hyderpora, Bagat, Solina, Batamaloo, Nawa kadal, Rajouri Kadal, Hawal, Labazaar, Soura touching 90 feet Road. 
ii) Pantha Chowk to Parimpora via Sonwar, Dalgate, Lal Chowk, Batmaloo, Qamarwari.
 iii) Lal Chowk to Batpora via Konakhan along the proposed Western Foreshore Road behind Nowpora and Rainawari upto Saida Kadal to Hazratbal connecting proposed Outer Ring Road near Batpora. 
MRTS Corridors (Phase-II): 
i) Extension of Phase I corridors to Budgam, Pampore, Ganderbal and Narbal adjacent to proposed and existing bus terminals for ensuring integration of traffic modes.

Possible alternatives:
Srinagar's Master Plan 2035 proposes modernisation of public transport system ranked in three priorities: 
i) 1st Priority: High Capacity Bus System; 
ii) 2nd Priority: Bus Rapid Transit System; and 
iii) 3rd Priority: Mass Rapid Transit System 
Here are the other recommendations already made that can offer viable alternative to the costly metro system:
Initially the Government should procure a fleet of low floor high capacity buses and introduce the same on important city corridors replacing the present mini-buses in a phased manner. In order to improve the efficiency and quality of public transport in the city, sustained efforts should be made to facilitate people to switch over from the present IPT system (Mini-buses and shared cars like Sumos) to High Capacity Bus System (HCBS) on below listed routes. 
The Master Plan, besides envisaging the augmentation of the bus fleet significantly, also proposes the rationalization of bus routes as High Capacity Bus Corridors in North – South and East – West directions.
Besides this, urban transport experts feel there could be more viable, sustainable and environmentally friendly alternatives for improving transport needs of Srinagar in case there is a serious options analysis. 
The final word: 
In the final analysis, experts agree, that the project should proceed only if a participatory financial, social and environmental assessment indicates that the pros outweigh the cons.
"A project of this magnitude should proceed only if an objective cost benefit analysis clearly establishes a sound rationale for the project", an urban planning expert, requesting not to be named, told Ziraat Times.