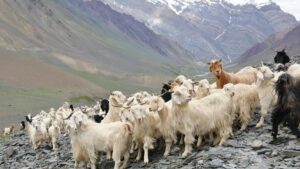 Jammu & Kashmir, with high mountains to low hills and vast meadows, provide enormous scope and excellent atmosphere for sheep rearing. Sheep and goat rearing is the core activity of rural masses playing a vital role in socioeconomic upliftment of weaker sections of the society viz., Gujjars, Bakerwals, Chopans and Gaddis.
J&K produces 7-7.5 Million Kgs of wool from around 3 Million sheep and is the second highest producer of wool in the country.
Kashmir wool went through a major revolution in 1970s when due to untiring efforts of a dedicated group of experts led by the Legendary Dr. Banday, the then Director SHD undertook massive breed up gradation by importing Australian merino, Corriedale, Soviet Merino etc.for cross breeding that resulted in production of soft and long staple wool.
The 70s and 80s were happening years for the State for its economy and other sectors. Having spent good number of years of my career in this sector, I have an intimate knowledge of the progression of this sleeping industry into a vibrant and remunerative economic enterprise.
The government availed of international technological assistance by engaging with CFTC (Commonwealth Fund for technical cooperation) and UNDP for processing of the local wool. The State, under a comprehensive plan set up institutions to cater to the needs of the woolen processing.
Himalayan wool combers, Jammu was meant to produce combed fine merino tops. Along side Sheep and Sheep Products Board was set up for wool purchase and sale as also for offering minimum support price to avoid distress sale. UNDP and CFTC experts provided technical assistance for processing and weaving. Handloom Development Corporation was established to undertake weaving and marketing of the fabrics. Thus Kashmir tweed was reborn in the villages and hamlets of Kashmir in the traditional weaving areas.
In my recent visit to the meadows of North Kashmir, it was very depressing to find that the wool prices have dropped down heavily. I remember we used to buy wool in 1980s at Rs.30-35 /Kg. and the prices in 2017-18 were hovering around Rs.100-110/Kg. The prices have fallen to Rs.30-35 in 2020-202. A shepherd who is also a wool sharer told me that this year many sheep breeders paid for sharing in kind by leaving the shared wool with the shearer i.e zero return for the breeder.
Such commodities are susceptible to unsettling market conditions. However in the past the community leaders of gujars and bakarwals would persuade the State Government to come to the rescue of breeders by offering support price. The State is gone, the UT has no space for genuine public representatives. The community leaders have gone into a shell. The present ruling hierarchy has no inkling of such problems. Sadly the marginalized communities have no voice or representation. Any ideas to salvage the situation?
(The writer is a former Director, Industries and Commerce Department, Kashmir; Director General Tourism Department. Mr Beg is presently convenor INTACH, J&K chapter)