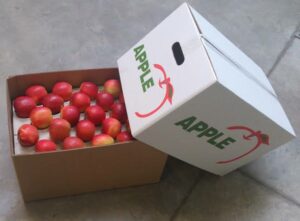 Srinagar, Oct 6: The proposed increase of 6 per cent GST from 12 per cent to 18 per cent on corrugated boxes is being met with concern by the manufacturers from across the country.
The move, likely to enhance apple production and processing costs both in J&K and Himachal Pradesh, is being opposed by corrugated box manufacturers in both the places.
The Federation of Corrugated Box Manufacturers of India said in a statement that "it was unfair to enhance the GST on corrugated boxes which are used in packaging of various commodities like apples."
Himachal State president, Surinder Jain, said, "Increase in the GST rate from 12 to 18 per cent will have a spiraling effect on the price of commodities like apples and other fruits which are packed in these boxes."
A representation was also given to the Union Finance Minister at Panchkula. The manufacturers want the state government to take up the matter with the GST council in its next meeting.
Kashmir-based manufacturers told Ziraat Times that the enhanced tax rate was likely to be disruptive for the apple industry in J&K, and the enhanced costs would inevitably pass on to the orchardists and other end users.
"This GST rise disrupts our business plans in the middle of the apple season and  might also encourage a shift back to poplar based wood boxes in Kashmir", Nisar Ahmed, a trader in  corrugated boxes told Ziraat Times.
Meanwhile, Surinder Jain said that "the corrugated box manufacturers have been battling abrupt hike in the price of kraft paper for the last two years. An increase of 6 per cent in the GST rate of corrugated boxes will have a debilitating effect on our business."
The investors said the GST on corrugated boxes has been 12 per cent since its inception in July 2017 and it was on a par with its major raw material-kraft paper and paperboard. Since kraft paper constitutes almost 76-80 per cent of the finished box, any hike in tax on boxes will increase the tax rate on boxes substantially.
"All users of corrugated boxes like fruit, vegetable, many pharma items, food items, liquor, etc., do not fall under the ambit of the GST. Hike in GST rate will, therefore, raise price of these commodities and result in undue burden on the manufacturers," added Jain.
The manufacturers contended that they are MSME with a large number of them being micro and small sector enterprises. "This increase will hit cash flow in the market. Earlier , 3 per cent cash flow of sales was required but the new development will push it to 9 per cent and no customer will offset this additional cost of finance."
The Himachal Pradesh Corrugated Box Manufacturers have also opposed the move of the GST council to increase the rate from 12 to 18 per cent on corrugated boxes made of corrugated, paper and board.