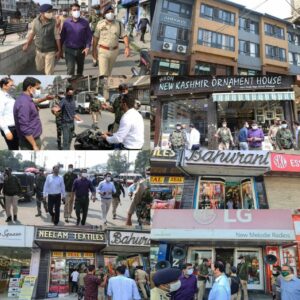 SRINAGAR, SEPT 20: The Deputy Commissioner, Srinagar, Mohammad Aijaz Asad today inspected various markets of Srinagar City to inspect the implementation of Covid-19 SOPs to combat the 3rd wave of Covid-19, as predicted by a section of medical experts.
During the inspection over two dozen business outlets/ establishments were sealed which include Time & Sound, Samsung Phone Gallery, LG Appliances, Ahdoos Bakery, Flower Gallery, Beauty Corner, Fine Walk, U&I Cloth Shop, West End, Bhaijan, J&K Motors M.A Road, Jan Bakery Dalgate, Neelam Textiles, Bahurani, Hamdan, LG New Melodie Radios, Peter England, New Kashmir Metal Mart, New Kashmir Ornament House, OCM, Lal Chowk Bund, Imperial Shah Stores etc. Besides, a fine of Rs 20,000 was also imposed on violators of Covid-19 SOPs.
During the visit, the DC inspected various markets of Srinagar City including Lal Chowk, Ghanta Ghar, Forest Lane, Dalgate, Polo-View, M.A Road, Regal Chowk, Residency Road, Amira Kadal, Hari Singh High Street, Maharaja Bazar, Gonikhan, Jehangir Chowk, Batmaloo and other adjoining business hubs.
The DC was accompanied by Senior Superintendent of Police, Sandeep Chowdhary and other senior Officers of district administration including Additional Deputy Commissioner, Dr Syed Hanief Balkhi, Sub Divisional Magistrate East, Owais Mushtaq, Tehsildar South, Moen Kakroo and other officers.
The inspection was carried out to take stock of implementation of various COVID-19 related advisories and guidelines including use of Face Masks, maintaining Social Distancing in various business establishments and other public places.
On the occasion, the DC interacted with the Traders, Pedestrians and Transporters and asked them to exhibit strict compliance to the government directions for larger public safety and health.
With regard to inoculation of anti Covid-19 dots, the DC urged the left out population of Srinagar district to visit nearest Vaccination Centers and get vaccinated at an earliest to defeat any possible 3rd wave of Covid-19 pandemic as predicted by Health Experts.