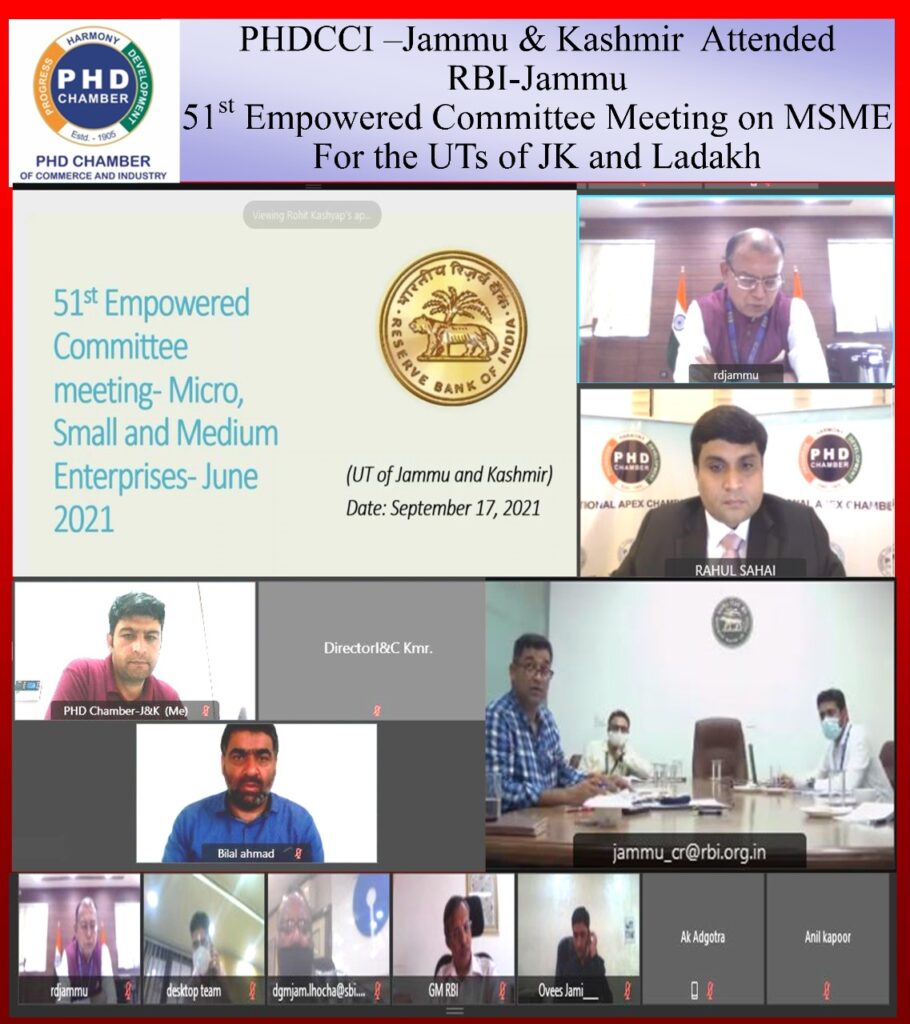 Srinagar, Sept 17: PHDCCI (J&K chapter), represented by Rahul Sahai, Chairman PHDCCI Jammu, along with Regional Director Iqbal Fayaz Jan and Convenor Industrial Affairs, Kashmir, Bilal Ahamd Kawoosa, attended the Reserve Bank of India (RBI), Jammu, 51st Empowered Committee Meeting on MSMEs for the UTs of Jammu & Kashmir and Ladakh on Friday.
The meeting was chaired by Kamal P Patnaik, Regional Director, RBI, J&K and Ladakh, and was also attended by Sandeep Mittal, General Manager, RBI, senior officers of major public and private sector banks in the State; Director Industries and Commerce, Jammu, Anoo Malhotra, Tazayun Mukhtar Kawos, Joint Director, Industries and Commerce, Kashmir, and representatives from SIDBI, PNB, SBI, J&K Bank, etc; a statement issued to Ziraat Times said.
Rahul Sahai applauded Regional Director RBI about engagement with MSMEs, particularly about awareness of various schemes. He suggested joint awareness sessions with banks to make MSMEs aware about the various schemes available. Sahai also suggested about passing MSMEs  benefits to traders as per new definition of MSMEs and also opening of specialized SME branch by Banks for CGTMSE Scheme. The Regional Director hailed suggestions made by PHDCCI and assured early action, the statement added.
The meeting also took a review of NPAs in MSME sector in J&K and Ladakh, Implementation of "Framework for Revival and Rehabilitation of Micro, Small and Medium Enterprises (MSMEs), Position of collateral free loans to MSEs, ECLGS, PMEGP Scheme, Dedicated SME branches for CGTMSE and Progress in providing banking facilities to the MSME clusters.
The PHDCCI-J&K Chairman mentioned in the meeting that need is felt that there should be proper capacity building of branches and it was decided and announced by RBI Regional Director that all banks will provide the dedicated helpline number for MSME`s and that will be disseminated through PHDCCI among stakeholders and  borrowers of banks.