Srinagar: The Jammu and Kashmir Hoteliers Club (JKHC) have urged people in general and tourism service providers to come forward and get vaccinated to protect themselves and others from Covid19 pandemic.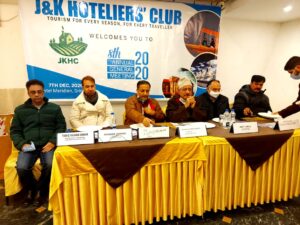 In a statement, J&KHC said Divisional Administration has been doing commendable job by reaching to all 18 plus age groups for vaccinations which would go a long way in fighting the pandemic.
Chairman JKHC Mushtaq Chaya said the survival of tourism depends on 100 percent vaccination of the 18 plus age groups at all places and especially tourism service providers.
Mr Chaya said under LG's administration, Divisional and District administration have been doing commendable job organising various vaccination camps.
He also appreciated the personal efforts of Secretary Tourism and Director Tourism Kashmir for carrying out vaccinations at various tourist resorts.
"We are happy to learn that most of the villages have achieved 100 percent vaccination and most of the service providers have also got vaccinated," he said.
He urged service providers to get vaccinated by the end of this month so that vigorous marketing campaigns can be organised for the promotion of the tourism sector.
"Our promotion campaigns depend on vaccination coverage. If we have cent percent vaccination coverage, then tourists will have the confidence to visit the Valley for holidays as they will feel protected here," he said.
Secretary General JKHC Tariq Rashid Ghani also urged hoteliers, travel agents, tour operators, houseboat owners, guides, pony riders, other service providers to get vaccinated at earliest and cooperate with the administration in achieving 100 percent vaccination coverage.