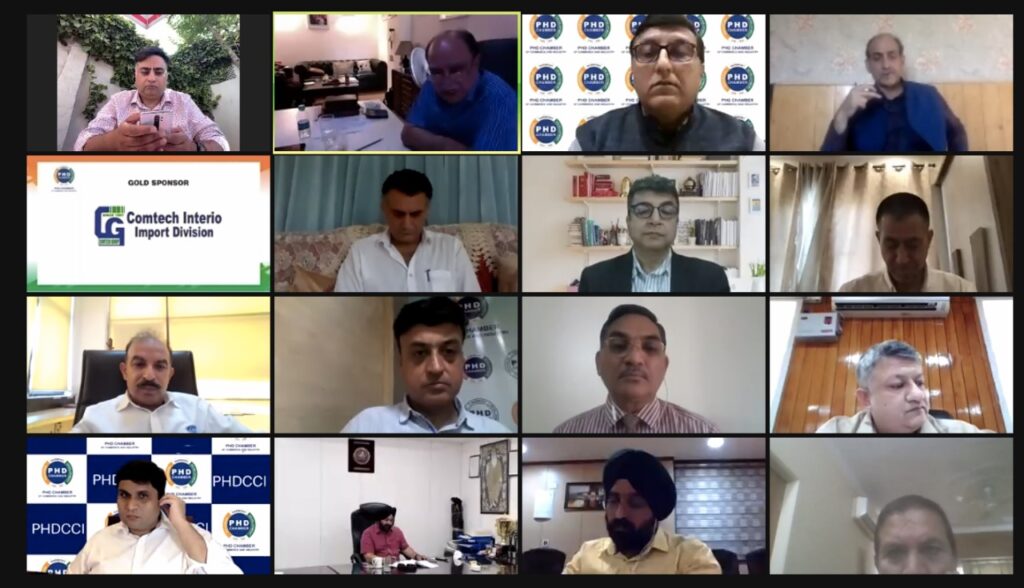 ​Srinagar: Exhorting the industry, potential entrepreneurs and jobless youth in J&K to come forward and tap the immense economic opportunities in the agriculture sector, Navin Choudhary, Principal Secretary, Agriculture Production & Farmers Welfare Department J&K, on Tuesday spelt out the way forward on business design, investment and market dynamics in the growing sector in J&K.
Speaking as the chief guest at the "The Future of Cold Chain Industry in J&K – Challenges, Trends, Opportunities and the Way forward" webinar, organised by the J&K chapter of PHDCCI, Mr Chaudhary asked potential investors to also explore other high potential investment areas like fishing and dairy in J&K. He put particular emphasis on value addition of various horticultural and agricultural products and said that the policy support regime in place right now for the establishment of industries and businesses in J&K was the most business-friendly ever.
"The government support in handholding available right now has been thoughtfully crafted to enable growth and greater productivity in the sector and create greater jobs and livelihood opportunities. However, what is also needed is business discipline by business actors – mainly business models based on sustainability and low reliance on government's financial handouts", he said.
Remarking that the current logistical and transportation challenges are likely to be overcome to a great extent due to the completion of the Banihal-Udhampur railway and the Srinagar-Jammu highway expansion, he said that businesses still would need to be forward looking, expand the investment horizon and leverage the great market potential of the country.
Detailing the progress in vegetable exports made in recent years in Kashmir and also the industry-friendly schemes made by the Agriculture Production Department in J&K, he said that besides diversification and business discipline, what is also needed is a focus on grading, packaging and marketing.
The webinar was designed to address the pressing demand for the Cold Storage in J&K, and focused on the areas like latest technology and innovation in the sector, creation of the cold chain infrastructure, statutory clearances required from the state government, role of clean energy, and linking all these activities with market. The program was held in collaboration with Infracool, Frick, Fresh India Show, DLF Building India, Mutani Kuka, JK Tyres and others. Ziraat Times is the media partner for the program.
Mushtaq Ahmed Chaya, mentor of PHDCCI J&K, in his inaugural address observed that horticulture was the backbone of Jammu & Kashmir and that expansion and reinforcement of cold chain infrastructure can increase the income of farmers in in a considerable way.
"When we assess data from the ground, we realise that farmers are mainly unaware of the importance of cold chain", he said, adding that entrepreneurs are to be made aware of the available modern technology and the opportunities available in investment in the area.
"It is in this background that the PHDCCI is taking the initiative to facilitate the development of cold chain infrastructure in J&K", he said.
Baldev Singh Raina, chairman, PHDCCI Kashmir region, while speaking on the occasion, said that the importance of J&K's apple sector can be gauged from the fact that J&K's apple production constituted 80% of India's total production, while it ranked 5th in the world, providing livelihood opportunities to 35 lakh people, with 7 lakh farmers associated in the sector.
Observing that 40% of apples get destroyed because of the lack of infrastructure, Mr Baldev said that only 2 lakh cold storage facilities are available in J&K, while 25 lakh storage facilities are required.
"Not only apples, J&K has big potential in value addition and greater income generation in kesar, saffron, walnut, peach, strawberry, pears etc. Market has to be developed. The Prime Minister wants to bring India's apple production rank to No. 2 from No. 5 in the years to come", Mr Baldev said.
Emphasising that there were a lot of employment opportunities for youth and the other unemployed, Mr Baldev said that more trees need to be planted and there needs to be a business will to meet the opportunities and face the challenges.
Highlighting the financing opportunities and avenues available through NABARD, Surendar Singh, AGM, NABARD, said that there was a warehouse infrastructure fund available with the bank on nominal rate of interest and that NABARD would be able to provide finance to such individuals who wish to establish a cold storage unit.
Vishesh Mahajan, Director Horticulture Planning and Marketing (J&K), while listing the governmental schemes available to investors, said that there were ample avenues available for businesses and farmers in tapping the immense business opportunities in the sector, and that cold chain sector had big prospects in enhancing livelihood opportunities for farmers in J&K.
Ajaz Ahmad Bhat, director Horticulture Department, while sharing his personal experience of belonging to a farmer family, said that in pre-cold storage days most of the produce of the farmers would go waste in Kashmir, however, with the introduction of cold storage facilities there are opportunities for better quality and earnings for the farmers. He also stressed on raising investment in the sector and also better marketing.
Listing out the opportunities and the current challenges for the investors in the sector, Maajid Wafai, president of Cold Chain Association of Kashmir, invited the industry players to visit the Lassipora Industrial Estate to see and appreciate the efforts that have gone into establishing the current cold chain infrastructure in J&K.
Dr. R Sharma, an agri-business specialist, noted that there were immense opportunities in the cold chain sector in J&K and that energy efficient technology was available for making the best use of the current schemes and expertise in establishing the facilities. He also emphasised on greater investment in roads, industrial area development, seamless movement of cargo and greater coordination with the state electricity board to deal with storage of power supply.
Ashu Verma from Infra Cool company said that their company had established the first cold storage in J&K in 2004 and that industrialist and leader of Apni Party Altaf Bukhari had provided immense support in creating their world class infrastructure comparable to advanced countries like USA, Europe & Australia.
Sharing his wide experience in the sector, Elyas Kraipak, representing Opportunity Kashmir said that while there are immense opportunities for youth for business and livelihood in the area, there was also a need for closely following the price dynamics and sustainability in the sector.
Viney Khenger, MD of Carrier's said that Kashmir had an important edge in the production of pears, peaches, apples and walnuts. "However there is a big scope for quality improvement, marketing and branding. The Washington apple is being sold at a higher price than the apple produced in India. It is because of their effective cold chain", he said, adding that reliable electricity availability was a challenge in J&K.
Hakim Khalid, an entrepreneur in agro-processing sector remarked that innovative techniques were required for better quality production and that research is a must for the growth of the apple industry.
Pankaj Mehta, MD of Cold Chain Logistics said that the paucity of cold stores in J&K was hitting the Kashmir apple economy. He emphasised on a more efficient supply chain for apples in J&K – right from the source to precooling to transport to processing to shipping, and, finally, retail. He also said that emphasis was required on green refrigerants and reducing emission of greenhouse gases.
Rahul Sahai, chairman of the Jammu chapter of PHDCCI presented the vote of thanks, while Naveen Seth moderated the program. Rakesh Wazir, mentor, PHDCCI, Jammu also participated in the discussion.