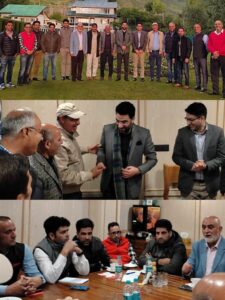 Srinagar, May 7: The PHD  Chamber of Commerce and Industry Kashmir held an interactive meeting with the Secretary Tourism J&K  Dr Syed Abid Rashid Shah-IAS  and Director Tourism Kashmir Raja Yaqoob Farooq (IRS) to discuss various  opportunities for the Kashmir region at the upcoming 3rd Tourism Working Group meeting of G20 Summit.
At the meeting, the Secretary Tourism Dr Syed Abid, appraised the Chamber that the G20 is a great opportunity for J&K to emerge beyond boundaries, PHDCCI said in a media statwment today.
"The discussion centered around how J&K can take advantage of the G20, which is the world's largest international economic forum, to showcase the region's natural beauty and promote tourism. With the 3rd Tourism Working Group meeting of G20 summit scheduled to take place in May  in Srinagar , the focus of the meeting was to evaluate the ways J&K could participate in and benefit from the event", the statement added.
A P  Vicky Shaw , Chair  of the PHD Chamber of Commerce and Industry Kashmir region said on the occasion, "We are very pleased to have had this interactive meeting with the Secretary Tourism and Director Tourism Kashmir. During the meeting, the Chairman expressed full support for the Government's initiative of organising 3rd Tourism Working Group meeting of G20 summit."
Dr. Abid, during the meeting announced plans to utilize the latest promotional methods to attract young, emerging tourists and travelers to the region. Dr. Abid said that the tourism department will devise strategies that will include leveraging the power of bloggers, vloggers, and social media to showcase the unique attractions of the area.During the discussions  the Secretary explored opportunities to promote golf tourism in the J&K region. Chair PHDCCI Kashmir Mr A P Vicky Shaw , who was earlier President for Professional Golfers Association of India, commended governments efforts to revive the golf tourism in J&K. He further suggested for revival of Gulmarg Golf Course and creating a golf circuit comprising RSGC Srinagar, Pahalgam Golf Course, and Gulmarg Golf Course.
Dr. Abid expressed full support for promoting golf tourism and pledged to work closely with PHDDCI Kashmir towards this goal.
Dr Abid further said that the G20 offers a great platform for showcasing our region's uniqueness and gaining global exposure. "and a form of trust and honor given by global leaders to Kashmir: "This trust is an opportunity for J&K  to contribute to optimize occupancy and introduce our culture, Handicraft and Tourism  business to the delegates of G20. However, it takes careful preparation and promotion to get maximum results.
While interacting with tourism committee of PHDCCI Kashmir Dr Abid Said that It is undeniable that the existence of the G20 Working Group Meeting is a great opportunity for J&K. The Chamber discussed various opportunities available to J&K, including cultural showcases and tourism presentations. They also brainstormed several ideas with Secretary and Director tourism around marketing and promotion, and ways to leverage digital platforms to reach an international and domestic audience by adopting modern media digital strategy.
The Chamber  discussed ideas and strategies that we intend to explore and implement while keeping in view the spirit of G20.
The PHD Chamber Discusses Modern Ways for Marketing Tourism Destinations with Quality and Commitment as Vision. The PHD Chamber of Commerce discussed about how tourism destinations can stay ahead in the current market. With travel becoming more accessible and tourism taking a center stage in the global economy, it is imperative to leverage modern technologies and ideas to draw visitors from across the world and keep them engaged.During the discussion, Dr Abid  observed that modern travelers seek immersive experiences that reflect the unique story and essence of a destination. Traditional forms of advertising, road shows  are no longer sufficient to attract potential visitors. Instead, destinations must leverage a wider range of marketing tactics, including social media, targeted advertising, influencer marketing, content marketing, and more. Secretary Tourism assured that J&K Tourism will also participate in all the Overseas Travel Marts with exclusive & independent vibrant Brand Presentations and for that an annual calendar will be made in collaboration with all Stakeholders.
Er Bilal Bhat EC Member of PHDCCI apprised the secretary Tourism for devising a strategy towards ease of doing bussiness for tourism stakeholders to avail all MSME and Industrial benefits through single Udyami registration.
The secretary  Tourism also discussed about J&K as destination to focus on providing golfers with personalized, high-quality experiences that cater to their preferences and expectations. Ensuring that golfers have access to top-quality golf courses and amenities, as well as fun and engaging non-golf activities, can help set the destination apart from the competition.
To achieve this, Dr Abid Said that we  must work closely with leading golf industry stakeholders like PHD Chamber and golf clubs, and engage with potential visitors through targeted advertising and promotional campaigns. Collaboration and partnership are essential components of successful golf tourism marketing, with all parties working towards a shared vision of exceptional golfing experiences.
The Chamber and Tourism department will work together closely to make J&K a leading state in the world tourism map," said Mr Nasir Shah, Convenor Tourism Committee of PHDCCI Kashmir. The meeting was also graced by Mr Rouf  Ahmad Tramboo-  as Special Invitee who provided the in-depth suggestions for development and promotion of adventure tourism segment of Kashmir.  The Meeting was attended by members of PHDCCI Mr Himayu Wani, Er Bilal Bhat, Mr Bilal Kawoosa, Mr Haleem Bhat, Mr Showket Mirani, Mr Sajad Shah, Mr Imran Anim, Mr Saleem Bhat, Mr Hilal Anim and Deputy Director PHDCCI Iqbal Fayaz Jan.