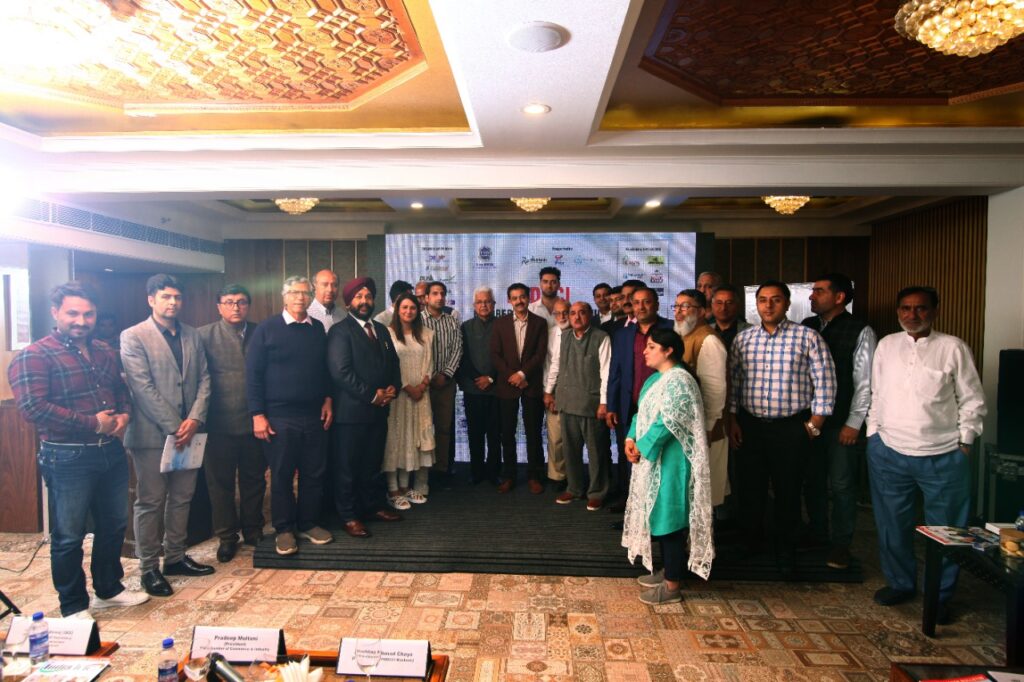 Srinagar, June 1: The PHD Chamber of Commerce & Industry Kashmir had a members meet on yesterday on 31st May at Hotel Radisson in Srinagar. The event was attended by President PHDCCI Pradeep Multani and Vivek Bhardawaj (IAS), Additional Chief Secretary, Financial Commissioner and Administrative Secretary Industries and Commerce as Chief Guest. Others officials who attended the meeting include Ajaz Asad (IAS) Deputy Commissioner Srinagar, Dr. Devansh Yadav (IAS) Managing Director, Jammu and Kashmir Trade Promotion Organization (JKTPO), Mehmood Ahmad Shah (JKAS) Director Industries and Commerce, Tariq Ahamd Zargar (JKAS) Director Handicrafts and Handloom.
The President PHDCCI interacted with members and felicitated the delegates and Executive Committee members of PHDCCI –Kashmir. There was a detailed presentation by Naveen Seth about the activities of PHDCCI-Kashmir from last one year and investment opportunities related data was also showcased in that presentation. On the occasion Vijay Sheoran CEO Dalmia Education and Healthcare shared their plan of action soon in collaboration with PHDCCI in all three regions of J&K.
The event was graced by various trade, commerce and industrial estate association representatives and presidents, prominent among them being  Sheikh Ashiq former President (Kashmir chamber of Commerce & Industry-KCCI), Tariq Rashid Ghani President (Chamber of Commerce & Industry Kashmir- CCIK), Imran Murtaza President Khonmoh Industrial Estate, Javid Ahamd President Spore Industrial Association,  Majid Wafai President (J&K Processing and Integrated Cold Chain Association JKPICCA), Hakim Khalid-President (KCH&A) and Mohd Yousuf Dar President Baramulla Fruit Association.