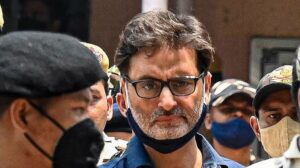 SRINAGAR May 25:  Kashmiri separatist leader Yasin Malik, Chairman of JKLF, was today sentenced to life in prison by a special Delhi court. The National Investigation Agency had demanded the maximum punishment, the death penalty, while the defence pleaded for life imprisonment.
Life imprisonment given to Yaseen Malik is unfortunate and a setback to the efforts for peace, PAGD spokesperson M Y Tarigami said in reaction to the NIA court's life  sentence to Mr. Malik. He further said that 'they are afraid that this will further compound the uncertainties in the region and will only fuel more alienation and separatist feelings.'
NIA Court has delivered its verdict but not justice, he said.
The triumphalism being displayed by the BJP and the corporate media is bound to prove counterproductive, he added.
Meanwhile, we suggest that Yaseen Malik should avail all legal opportunities to contest this verdict, he said.
Several parts of Kashmir today observed a spontaneous shutdown fuelled by concerns about such a verdict to Mr Malik. Some parts of Kashmir also witnessed shutdown of mobile Internet services.