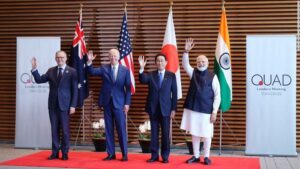 Tokyo, May 24: India's Prime Minister Narendra Modi on Monday formalised the country's entry into the Indo-Pacific Economic Framework (IPEF), along with 12 other countries, including the US, to strengthen economic cooperation as a geo-strategic counter to China's growing clout in the region.
The other countries that joined the IPEF ahead of the QUAD leaders' summit in Tokyo are Australia, Brunei Darussalam, Indonesia, Japan, South Korea, Malaysia, New Zealand, the Philippines, Singapore, Thailand, and Vietnam.
Speaking at the launch event in Tokyo, Modi said India will work with other members to build an "inclusive and flexible" IPEF. "The Indo-Pacific Economic Framework is a declaration of our collective will to make the region an engine of global economic growth. I believe that there should be three main pillars of resilient supply chains: Trust, Transparency, and Timeliness. I am confident that this framework will help strengthen these three pillars, and pave the way for development, peace. and prosperity in the Indo-Pacific region," Modi said, without mentioning the other three pillars of the proposed trade deal.
The joint statement talked about four pillars: Trade; supply chains; clean energy, decarbonisation and infrastructure; tax and anti-corruption. Under the trade pillar, the joint statement seeks to build "high-standard, inclusive, free and fair trade commitments".
"Our efforts include, but are not limited to, cooperation in the digital economy," the joint statement said without ruling out tariff negotiations under the proposed trade pact.
On issues such as digital commerce, labour, and environmental standards, India and the US have contrasting views. India strongly resists putting such standards in any of the free-trade agreements it signs. India didn't join the Osaka track on the digital economy at the G20 leaders' summit in 2019 as it remains reluctant on setting global rules e-commerce holding that this may deny policy space to developing countries to expand their nascent e-commerce space.