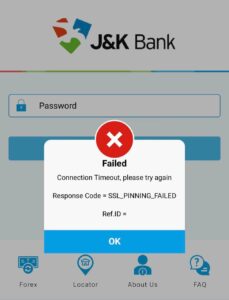 Srinagar, May 1: As Jammu & Kashmir Bank's e-banking services, particularly its mPay service, continue to be disrupted due to technical glitches, the bank's customers are expressing their growing frustration over the prevalent  state of affairs in the bank's digital business interface.
Pertinently, the bank's app-based banking services are experiencing  frequent and long downtime over the last few days, resulting in a major financial disruption on the eve of business-heavy Eid festival.
Lately, customers are taking to social media to voice their disappointment for the disruption to their business activities. Most customers are also disappointed that the downtime is coinciding the festival time of Eid when e-transactions and shopping activities tend to be high.
J&K RTI Movement chairman Raja Muzaffar Bhat, while expressing his disappointment with the state of affairs, said that accountability needs to be fixed for such a major disruption.
Financial experts are of the view that this disruption could have a major cascade effect on business activities, considering that most of the banks ATMs are running short on cash on the eve of Eid festival.
Muzamil Quadir, a bank customer, wrote on social media, "Jammu and Kashmir Bank, the downtime frequency of your mobile application is alarming. Businesses and customers are suffocating due to disruption in cash flows. High time you take some decision on war footing basis because enough of damages to the business ecosystem of JK."
Expressing surprise that there has been no public statement by the bank explaining the reasons for the disruption and giving a timeframe for when the snag is expected to be fixed,  Rayees Ahmed Bhat, another customer opined, "No official statement has come from the authorities who are at the helm of affairs of Jammu and Kashmir Bank over the poor functioning of Digital Banking App "M Pay" and the inconvenience caused on this account to general public on the auspicious occasion of Eid, despite so much of hue and cry reported by all Media channels across Jammu and Kashmir."
"The bank must come up with a sincere apology to one and all on account of inconvenience caused", he said.
Talking about a solution, another netizen wrote, "The M-Pay app has to be programmed, updated or replaced with some other Digital Banking App so as to ensure that the expectations of the general public are lived upto."
"Many shopkeepers faced huge loss due to MPay error and locals also faced difficulties due to non availability of funds in ATM Machines. I  lost around 2 hours today while trying to find a working ATM Machine and at the end, I had use another bank's ATM card", Ishfaq ul Rahman, another customer said.
Mohammad Afaq Syed, a prominent businessman and a bank client, while expressing his concern for the situation wrote, "I literally had to face an embarrassing situation when I couldn't pay a shopkeeper. Card payment was not going through, mPay was not working. Embarrassed, I told the shopkeeper, "OK ! Let me come again tomorrow" and someone from behind said, "… let me pay and you can transfer the money to my account at your own convenience".
I did not know him but he somehow knew me very well. I am now trying to return his money but am unable to pay as mPay throws up a strange message." Activate your service".
Junaid M Wani observed, "Papa waited in line at Vmart due to huge rush there but after half an hour when it came time to pay, they said mpay is not working. Then after more half an hour i managed to arrange the money .."
"Outside my shop is an ATM of JK Bank whole day customer's were literally crying because of poor service. Have seen from my eyes", another customer, Imran Qadir, wrote on Facebook.
Meanwhile, a bank spokesperson was quoted as saying that the banks as working on fixing the snag.
"Till 8 PM Saturday, there were 298984 transactions using mPay and it involved a whopping Rs 248.62 crore," the spokesman said. "In addition to this, there were 276000 successful transactions using Debit cards on JK Bank ATM which resulted in case dispensation of Rs 188 crore."
There were purchases using the JK Bank POS machines. Saturday saw 1,40,000 purchases that involved Rs 14.50 crore. "We also dispensed cash of Rs 28.20 crore for our debit cards that customers used on ATMs not owned by us. These were 58000 transactions."