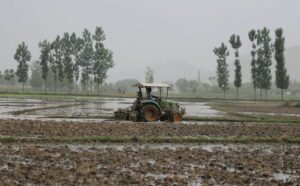 BUDGAM, JAN 8: Budgam is one of those districts in Kashmir where large stretches of fertile karewa lands had witnessed subsistence farming for ages. But now all that is changing. Farm mechanisation and the introduction of other modern farm equipment, tools and machines are enabling farmers to undertake modern farming in difficult karewa and non karewa lands, resulting in an increase in both production and productivity. Agriculture is transforming in the district. So are the lives of its farmers.
Agricultural mechanization implies the use of various power sources and improved farm tools and equipment, with a view to reduce the drudgery of the human beings and draught animals, enhance the cropping intensity, precision and timelines of efficiency of utilization of various crop inputs and reduce the losses at different stages of crop production.
While farmers are buying costly equipment and farm machines on their own as well, in recent years, the Government has launched various schemes, initiatives and other farmer empowerment policies from time to time. Sub-Mission on Agricultural Mechanization (SMAM) is one such scheme under which farm machinery/ equipment is issued to individual farmers or SHGs on subsidized rates and 40% and 80% subsidies are provided to the aspirants for the establishment of Custom Hiring Centres (CHC) and Farm Machinery Banks on the Unit Costs of Minimum Rs. 10.0 Lacs, subject to maximum subsidy of Rs. 4.0 Lacs and Rs. 8.0 Lacs, respectively.
The farm mechanization has assured enhancement of overall productivity and production with lower cost of production. The contribution of agricultural mechanization has been well recognized in enhancing the production together with irrigation, biological and chemical inputs of high yielding seed varieties, fertilizers, pesticides and mechanical energy.
In many parts of the district, many farmers have purchased brush cutters, portable tractors, tractor trolley-mounted spraying equipment and so on. Those farmers who are unable to purchase these equipments also rent them from the markets.
One of the most extensive use of such equipment is in the vast farmlands of Chadoora, Nagam and Charar Sharief.
Like other parts of Kashmir, the Agriculture department has also adopted it in Budgam district on a large scale benefiting small, medium and large size farms.
The CHC has not only helped farmers in enhancing productivity of different crops, but also improved their socio- economic status. In Budgam, there are as many as 50 persons who have established CHCs, upbeat about it, has resulted in better quality of operations and precision in the application of the inputs, thereby resulting in increasing farmers' income.
One among the beneficiaries is Abid Nazir, a 26- year old youth from Khanpora Budgam who along with other eight friends applied for CHC and successfully established it in the year 2020, under the brand name of The Turabi Group.
Nazir, who is doing his masters in History subject, was like many other unemployed educated youths, with no source of earning. However, establishing the CHC not only helped him to find a decent livelihood for himself and for his SHG friends but also provided employment to a couple of other youth, hired to operate the machinery.
He said that the utilization of the machinery has not only boosted their farming but also other farmers who hired it from them, has shown tremendous results in the farming sector.
He maintained that the use of the mechanization at their farms for various operations reduces the labour component, saves time and enables them to carry out various agricultural operations efficiently in the shortest possible time, thereby, improving overall socio-economic standards of farmers.
Nazir further said that through CHC they found a source of good earning for them and brought them out of a state of despair and turned them into job providers instead of seekers.
Sharing details, Chief Agricultural Officer, Budgam, Syed Tafazul Hussain Madni said that during 2020-21, Agriculture office Budgam has issued 4 Nos. Of Custom Hiring Centres and 4 Nos. of Farm Machinery Banks to individuals and SHGs with subsidy of Rs. 1.20 Crores.
He said that farm mechanization plays a critical role in increasing agricultural productivity.
Mechanization has been well received in India as one of the important elements of modernization of agriculture, enhancing agricultural productivity and consequently rural prosperity.
The farm machinery enables farmers to quickly rotate crops on the same land and ensures improvement in the cropping intensity and making agricultural land commercially more viable.
It also helps in conversion of uncultivable land to agricultural land through advanced tiling techniques and also in shifting land used for feed and fodder cultivation by draught animals towards food production. Farm mechanization and crop productivity has a direct correlation as farm mechanization saves time and labor, reduces drudgery, cuts down production cost in the long run, reduces post-harvest losses and boosts crop output and farm income.
The Sub Mission on Agricultural Mechanization (SMAM) is providing a suitable platform for converging all activities related to agricultural mechanization by providing a 'single window' approach for implementation with accelerated and inclusive growth of agricultural mechanization in India.
(Feature Inputs from Agriculture Department, Kashmir)