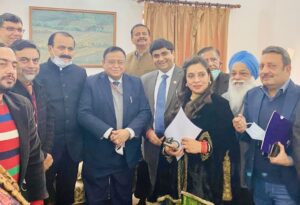 Jammu, Dec 17: Rahul Sahai, Chairman, PHD Chamber Of Commerce & Industry Jammu led a delegation to meet and submit a memorandum to Dr. Vijay Kumar Saraswat Member of NITI Aayog, and Chancellor, Jawaharlal Nehru University in Jammu today.
Here is the full and unedited text of the statement issued to the media:
PHDCCI team submitted a Memorandum of Suggestions on measures for revival of J&K economy said we are deeply honored that we are meeting a scientist , with vast experience in defense research the recipient of many awards and most notable among them being Padma Shri, Padma Bhushan and conferred with Honorary Doctorate by more than 25 Universities. Sahai apprized Dr Saraswat about higher education institutions of Jammu eg:  IIT, IIM, Model institute of Engineering & Technology (MIET) Etc. and requested him to visit these institutions and deliver lecture for youth of J&K. Saraswat assured that will definitely do in coming months.
Rahul Sahai Chairman PHDCCI Jammu Suggested NITI Lecture Series for J&K said Niti Aayog In Association with PHDCCI Should Start a Series of lectures  for J&K to invite globally and Nationally reputed policy makers, experts, administrators to share their knowledge, expertise, experience in policy making and good governance. Suggested Aspirational Districts for Jammu too  recommended that apart from Baramulla and Kupwara which are the aspirational districts of J&K One or two Districts from Jammu may also be included in the List of Aspirational Districts. 
 PHDCCI also Suggested  to Formulate an Innovation task-force comprising leaders from academic institutions and industry  (Govt. and non-Govt.) to create an innovation-enabling roadmap for J&K said Identify the top challenges in J&K and open these challenges to be solved through hackathons and ideathons involving and engaging the youth to solve challenging problems in the local domain . Setup  Digital Skilling Centers to equip youth to upgrade their skills in emerging domains in J&K . Provide World-Bank TEQIP (Technical Education Quality Improvement Program) funding to private institutions in the higher education sector in J&K . Fund and setup Centers of Excellence in Science and R&D in specific domains in government and private institutions in the region. Undertake rapid digitization program for the education sector in J&K . Provide high-speed internet access to all remote areas in J&K to boost connectivity and learning.
Suggested Implementation of all Central Schemes in letter & spirit in J&K , Relaxations in RBI Norms for stressed Msme's after Covid , Change in Land Use Rules To Allow Businesses On Agriculture land , Resolving Gair Mumkin khad , passi matter also to come up with clear land title policy  , Highlighted  Jammu Liquor/Beer Industry issues  , Registration-road tax of 9% of New Vehicles should be there , hackathons and ideathons involving and engaging the youth of J&K , Tourism Marketing and Branding strategy for whole J&K.
Dr. Vijay Kumar Saraswat Hon`ble Member, NITI Aayog, and Chancellor, Jawaharlal Nehru University was accompanied by Ranjan Prakash thakur IRTS Principal Secretary Industries and Commerce department of J&K . Dr Saraswat hailed PHDCCI delegation for suggesting positive measures for overall development of UT and assured to incorporate and resolve the eligible issues at the earliest and said interactions will be continued with the stake holders .