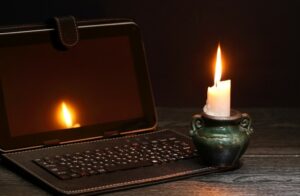 Srinagar, Dec 10: Unprecedented load shedding and unscheduled power cuts in Kashmir region this winter are leaving a devastating impact on the region's business and industry.
Business observers estimate that Kashmir region's economic output and productivity must be witnessing a drop between 35-40 % if the cumulative effect of the scheduled and unscheduled power cuts is taken into account across manufacturing, services and agriculture sectors. That productivity loss is likely to translate into a major dent into the state's Gross Domestic Product, if the basic ripple effect is taken into consideration, experts believe.
Chief Engineer, Kashmir Power Development Corporation Limited, Ajaz Ahmad Dar, told Ziraat Times that against a unrestricted demand of 3000 mega watts of electricity, the current supply capacity is only 1750 mega watts.
Economic and energy experts do not see this demand hike as something unusual. "With the onset of winter in Jammu and Kashmir, energy demand goes up because there are barely any alternative energy sources. And the demand is a sum total of demand from domestic, commercial, government establishments and the visitor population visiting the J&K", an energy expert said.
But how do the business and industry leaders of J&K see the current energy scenario? Ziraat Times engaged with business and industry leaders across both Kashmir and Jammu regions to understand the impact of this crisis on economic activities. Here is what they had to say: 

Mushtaq Chaya – Chairman Jammu & Kashmir Hoteliers Club 
Tourism sector is facing several problems due to the frequent power cuts. We invite guests to Kashmir and here they have to face prolonged power cuts. Though the authorities say they ensure uninterrupted power supply to tourism destinations, the situation is quite different on the ground. Pahalgam faces prolonged power cuts, even though the power scenario in Gulmarg is still better than other areas. But, overall, there is a dire need to provide uninterrupted power supply for the tourism sector to ensure hassle free stay of tourists here.
Shahid Kamili – President, Federation Chamber of Industries Kashmir (FCIK)
Unscheduled power cuts are inflicting losses on industrialists. Our units mostly operate from 10 am to 6 pm and in this time there is a power cuts lasting for more than 4 hours which means our staff cant' work meaning losses and idle wages. Already, our industrial sector is passing through turbulent times, and these unscheduled cuts are further aggravating the problems.
We have been demanding that demand charges from 2019 should be waived off, but those demands haven't been met so far. At many places the Power Corporation has given electricity connections to industrial estates from domestic areas which mean that unit holders also come under ambit of power curtailment schedule. In this situation how can a unit holder in Kashmir prosper and do his /her business normally when factors like power cuts are not in their hands?
Showkat Chowdhary – Chairman, Jammu & Kashmir Hotels and Restaurants Association (JKHARA) 
Load shedding in Kashmir is causing a huge economic impact on local businesses. Power cuts mean that a hotelier or businessman has to operate on costly alternative energy sources, which is a costly affair. In some industries, which run on electricity only, these frequent and long power cuts mean that the workers are unable to work for long hours resulting in production losses. This situation has created a plethora of problems. Government should ensure uninterrupted power supply in the winter months when electricity is most needed in Kashmir due to chilly weather.
Rahul Sahai  – Prominent businessman and Chairman, PHDCCI, Jammu chapter
In Jammu division, industrial areas and hoteliers are receiving power as per schedule. But there is a problem in residential areas where power cuts are unscheduled and last for hours together.
Tariq Rashid Ghani – President, Chamber of Commerce and Industries Kashmir (CCIK)
Most of the residential areas in Kashmir, especially in the downtown area, are reeling under darkness for longer duration bringing them lot of inconveniences. Traders and young entrepreneurs, who aspire to do business, are also in a bad situation due to unscheduled and longer power cuts.Many young entrepreneurs who can't afford backup of power supply through inverters and batteries are facing losses as they are not able to do their jobs without electricity. For a good business ecosystem, uninterrupted power supply is a basic requirement. We appeal to the LG administration for the round-the-clock power supply so that both households and business units can function normally.