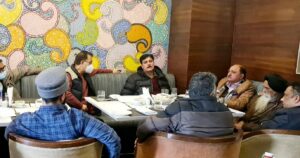 Srinagar, Nov 13: Jammu and Kashmir Hoteliers Club elected Farooq Hafiz as the president of its Sonmarg Chapter.
In a meeting today, which was chaired by Chairman Hoteliers Club Mushtaq Chaya at Radison Srinagar, election of the office bearers of the Sonmarg Chapter was held during which Farooq Hafiz was unanimously elected as Sonmarg Chapter President.
Chaya hoped that the Sonamarg will have good winter season this year as administration has promised to keep the destination open during whole year with better road connectivity and timely snow clearance.
Sectery General Tariq Ghani requested authorities to ensure 24×7 electricity and water supply to Sonmarg resort so that tourists can enjoy holidays.
The newly elected president of Sonmarg Chapter assured all members that he would try to resolve all the issues of Sonmarg hoteliers at an earliest by taking them up with the concerned authorities to make the resort a round-the-year destination.