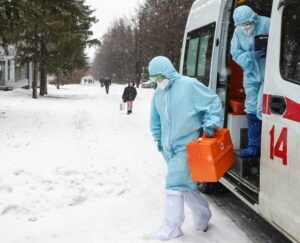 Srinagar, Nov 12: Covid19 pandemic is far from over. Even as skeptics have viewed the WHO's warning of 500,000 potential deaths in the EU region with disdain, cases are indeed rising across Europe.
In India, while the official positive cases and deaths are still low, testing rates are believed to be low to capture the actual picture.
India registered 12,516 new Covid-19 cases in the last 24 hours, according to data released by the Union Health Ministry on Friday. The cumulative death toll rose to 4,62,690 after 501 fatalities due to Covid-19 were reported in the last 24 hours.
Jammu and Kashmir recorded three 177 fresh positive cases on Thursday, taking the number of total active cases to 1,230 while no death was reported in last 24 hours. Wednesday recorded three deaths in J&K. Medical experts are also baffled about the genesis and triggers of the sudden heart attack incidents occuring among young people in Kashmir region almost on a daily basis and a potential long Covid factor.
Ziraat Times here brings a summary of the global trends in the Covid19 pandemic:
Germany reported a record-high number of more than 50,000 daily coronavirus cases on Thursday as lawmakers mulled legislation that would pave the way for new coronavirus measures.
Germany's chancellor-in-waiting Olaf Scholz has pushed ahead with a plan to phase out a state of national emergency by the end of the month, despite the country recording the highest coronavirus case numbers since the start of the pandemic.
Australia passes the 90% first dose vaccination milestone for those aged 16 and over.
Brazil reports 188 Covid deaths in past 24 hours and 15,300 new cases of the coronavirus.
Sweden has seen a sharp decline in Covid testing this month after its health agency said vaccinated Swedes no longer need to get tested, even if they have symptoms.
The UK reported another 42,408 Covid cases and a further 195 deaths within 28 days of a positive test.

Morgues are filling up in Romania and Bulgaria as the countries record the EU's highest daily death rates from Covid-19, after superstition, misinformation and entrenched mistrust in governments and institutions combined to leave them the least vaccinated countries in the bloc.
The Netherlands on Thursday recorded more than 16,000 coronavirus infections in 24 hours, the highest number since the start of the pandemic. Dutch health experts have called on the government to impose a partial lockdown to fight the increase in cases.
Austria will place millions of people not fully vaccinated against Covid-19 in lockdown in a matter of days, as daily infections are at a record high and intensive-care units are increasingly strained, the chancellor, Alexander Schallenberg, said. About 65% of Austria's population is fully vaccinated against the coronavirus, the lowest rate of any western European country apart from Liechtenstein.
The UK government's vaccine mandate for care home workers came into effect as about 50,000 care home staff have not been fully vaccinated in England and will not be allowed to work from Thursday.
Death rates from Covid infections are much higher in patients with diabetes in Africa, where the number of people with diabetes is growing rapidly, the World Health Organization said.A WHO analysis of data from 13 African countries found a 10.2% case fatality rate in patients with Covid and with diabetes, compared with 2.5% for patients with Covid overall. Matshidiso Moeti, the WHO regional director for Africa, said: "Covid-19 is delivering a clear message: fighting the diabetes epidemic in Africa is in many ways as critical as the battle against the current pandemic."
Meanwhile, Israel conducted the world's first national Covid drill to test the country's readiness for an outbreak of a new and lethal variant of the virus.
The drill, held on Thursday, took the format of a war games exercise and will be led by the prime minister, Naftali Bennett.
It tested the capabilities of government departments and national agencies to respond to the emergence of an "Omega" variant of Covid-19.
(With inputs from AP and AFP)