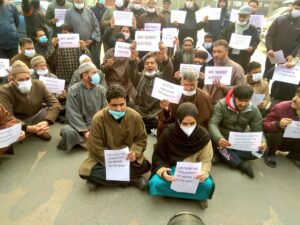 Srinagar, Nov 17: The family members of Hyderpora businessman Altaf Ahmed, Dr Mudasir Ahmed and Amir Ahmed from Banihal who were killed in the Hyderpora encounter on Wednesday held a protest at press enclave Srinagar demanding the bodies of the deceased men without any further delay. The protesting family members also reached out to the J&K's mainstream political parties, especially former chief ministers—Omar Abdullah and Mehbooba Mufti – asking them to move beyond tweets and join the family in protest so that slain Altaf is given proper burial.
Humaira Gul, the wife of Dr Mudasir Gul, who was killed in Hyderpora encounter, stated that her two-year-old daughter has been crying, baba, baba and she had no answers to her. She said police must come up with a proof that her husband was an OGW and the fact is that "my husband had no militant links and was earning his livelihood in a clean manner."
"Today, we are protesting to seek the body of slain Altaf Ahmed back without any delay. If police don't give us his body back, we will block all roads and protest on streets," said Dr Haneef Ahmed, brother of Altaf, as per news agency—Kashmir News Observer (KNO). He said that all the former chief ministers—Omar Abdullah, his father Farooq Abdullah, and Mehbooba Mufti, and politicians like Ghulam Nabi Azad and others should move beyond twitter reactions and join the family in protest on roads.
"Today, this has happened with us and tomorrow it may happen with you also. We also appeal to all Muslims, Sikhs and Kashmiri Pandits living in Kashmir to join us in protest and show us that we all are one," Dr Haneef said. He said when police chief of Kashmir Vijay Kumar has himself admitted that Altaf was a civilian and was killed in a crossfire, what prompted him to take "my brother's body to Handwara for burial." "We appeal to the IGP to return to us the body of Altaf and at the same time we seek LG Manoj Sinha's intervention too into the issue," he said.
Altaf was among four persons killed in Hydeprora encounter. On Tuesday, IGP Kashmir Vijay Kumar said Altaf, the building owner, was killed in cross fire and the bodies of all four slain were taken to Handwara for burial.
"My year-old-daughter has been crying since yesterday looking for her father. She cries baba, baba, and I have no answers to her. I urge LG Manoj Sinha to allow my daughter to see her father for the last time," Humaira told reporters at press enclave Srinagar, as per news agency—Kashmir News Observer (KNO). She said the police must give her proof about her husband being an OGW.
"Police can kill me also if my husband is proven as an OGW," said Humaira, while holding her daughter in her arms. "My husband wasn't an OGW but a doctor by profession. He was earning his livelihood in a clean manner. In fact, in a marriage party at Rawalpora recently, police officers and the officers from the administration had lunch with Mudasir. How come the police label him as OGW," she said.
Other family members of slain Dr Mudasir were also part of the protest who demanded return of Mudasir's body back for proper burial. "We appeal LG Manoj Sinha and IGP Kashmir to return the body of Dr Mudasir so that his daughter can see him one last time and we all could bid him a final adieu," the protesters said.
Mudasir was among four slain in the Hyderpora encounter. Police said Mudasir was living in a rented room in a building where the encounter took place and that he had allowed slain militant Haider to use his rented room as a hideout. Police also said that Mudasir had ferried Haider in a vehicle from Jamalata area of Srinagar where police was injured in militant firing and was an OGW.
—(KNO)