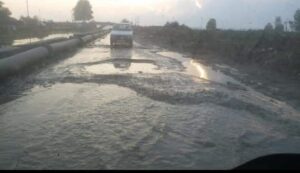 Srinagar 17 Oct: President Travel Agents Association of Kashmir ( TAAK),Farooq Kuthoo in a statement issued to press has called upon the district administration to immediately macadamize the Shalimar Ghat road, which is shambles for a long time now.
On one hand government is boasting about infrastructure development in J&K Tourism destinations and on the hand the infrastructure at the much famed tourism destinations is in shambles which craves for immediate attention, TAAK said in the statement.
"One such example being Ghat Road originating from famous Shalimar gardens which has not been macadamized for years. This link road leads to foreshore road from Shalimar gardens which is an important link leading to various Tourism attractions", Kuthoo said.
This link road is not only unmotorable but it's very difficult to walk through .
A number of Tourists visiting Shalimar gardens feel that this important link should have been macadamized on priority looking at the tourist rush visiting Mughal gardens these days, he added.
Before the winter sets in, we call upon the Government to look into this and macadamize this road on priority.