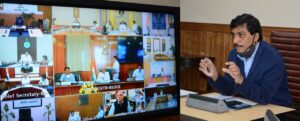 Srinagar, Oct 4: Welcoming the idea of resuming foreign tourism before the winter season, Chief Secretary Dr. Arun Mehta today informed that the COVID situation in Jammu and Kashmir is by and large under control and that subject to Covid protocols, foreign travelers can be allowed to visit J&K if they possess double jab certificate and have taken RTPCR test during the last 72 hours.
The Chief Secretary was participating in a meeting chaired by the Union Home Secretary to consider resumption of foreign travel to India on tourist visa.
Dr Mehta stated that allowing entry of foreign travelers in J&K would not be a problem, especially as around 90 % of the people associated with tourism and hospitality sectors have already been vaccinated with at least one dose.
"Resumption of travel by foreign tourists will provide much needed succour to the UT's tourism industry, which has been severely impacted by the ongoing Covid 19 pandemic. J&K would welcome foreign tourists particularly in the winter as several activities are being planned during the upcoming winter season in Gulmarg and other scenic winter spots in UT", he added.